On Wednesday, March 3, 2021, a Norfolk kitchen made its debut on the silver screen, on the pilot of HGTV's newest remodeling show.
About Farmhouse Fixer
Dorchester native Jonathan Knight, known as a member for Grammy-nominated New Kids on the Block, stars on Farmhouse Fixer, a show that focuses on the restoration and preservation of historic New England farmhouses.  Jonathan, who has remodeled over 200 homes to date, remodels 6 New England homes with the help of his friend Kristina from Kristina Crestin Design.
Read More About Farmhouse Fixer
The Kitchen Design
The pilot episode that aired on March 3, 2021 features an old white farmhouse in Hollis, NH. In 2019, Norfolk Kitchen & Bath Nashua received a call from a customer whose home was set to be featured on a new unnamed HGTV show. Mariah, a Norfolk designer, worked closely with Kristina & Jonathan to design a stunning kitchen that honored the history of the home while incorporating 21st century design elements like open shelving, soft-close doors & drawers, stainless steel appliances and stone countertops.
The kitchen cabinets feature a custom blue paint color from Showplace Cabinetry, and the boards & beams used for the wood accents in this kitchen design were taken from an old barn that had been taken down in the back yard. Norfolk Kitchen & Bath assisted with the design, ordering, and delivery of the kitchen cabinets and cabinet hardware.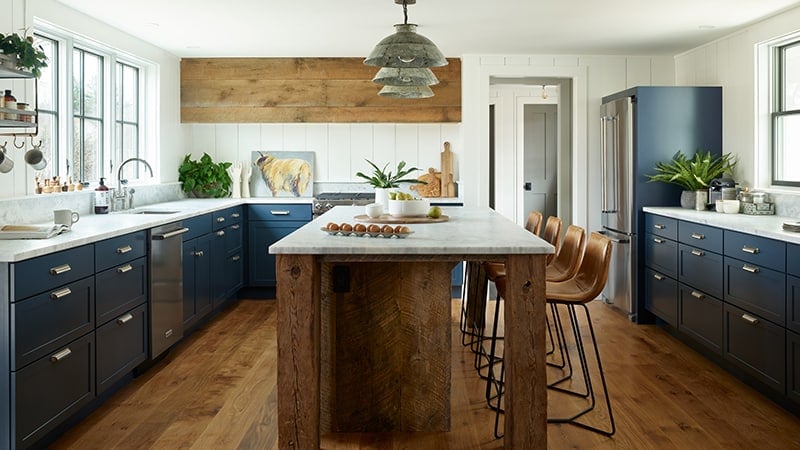 The Remodeling Project
The remodeling project included a complete demo and rebuild of the back of the house, where the kitchen was located, updating the entire first floor, and a brand new chicken coop/potting shed combo that was Jonathan's personal project. Kristina & Jonathan also took branding irons to brand each exposed beam with the name of each family that had owned the farmhouse since it was built, ending with the current homeowners, a fun way to pay homage to the property history. The homeowners, married with three adult children, are thrilled with the results of their restored farmhouse and their new kitchen!
HGTV Pilot Premiere
While shooting of the pilot episode concluded in the spring of 2019, the show was picked up by HGTV for a 6-episode run. Resulting production delays and the COVID-19 pandemic delayed the premiere season of Farmhouse Fixer for a full year, eventually airing in the spring of 2021. Tune into HGTV on Wednesdays at 9/8c as new episodes air this spring and check out more photos of this project below!