Career Opportunities At Norfolk Kitchen & Bath
Norfolk Kitchen & Bath is New England's largest family-owned kitchen & bath showroom, with 6 showrooms across MA & NH. Founded in 1934, we are a 4th generation family owned business with over 200 employees. In addition to our remodeling showrooms, Norfolk also has a home center in Boston, a countertop manufacturing business and a multi-family sales team. All of these companies are part of our umbrella name, The Norfolk Companies.
Our customers choose Norfolk because they want to work with the experts over the local big box. Whether you are a designer, a customer service representative, a delivery driver or a talented carpenter, our team is a huge part of our overall success.
Are you looking to grow your career in the kitchen design & remodeling industry? Come join the Norfolk team!

Competitive Pay
We offer competitive wages across the board. Our design team also has the opportunity to earn commission based on sales

Growth Opportunities
We are always looking to promote from within. We also offer professional development & learning opportunities.

Work-Life Balance
All showrooms are closed on Sundays. Norfolk also offers generous paid time off (PTO) & 6 paid holidays per year.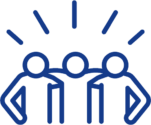 Community Outreach
Helping the community is part of our company DNA. We are always looking for new ways to give back to local organizations.
JOIN THE NORFOLK KITCHEN & BATH TEAM TODAY
Norfolk Kitchen & Bath is an equal opportunity employer. All qualified applicants will receive equal consideration.