What Is A Kitchen Design Style?
When you browse through your favorite kitchen photos on Pinterest or Houzz, you may have come across terms like "Traditional", "Transitional" or "Contemporary". These words are used to describe different design styles in homes. In kitchen design, there are many elements that make up one style or the other, such as a certain cabinet door style, color palette or accessory. Below is a list of some of today's top kitchen design styles, and the elements that are commonly found in those types of kitchens. Determining your kitchen design style is the first step in planning for your dream kitchen.
Traditional Kitchen Style
Traditional kitchens are a classic style of kitchen, and typically have many architectural details and embellishments that contradict today's modern, simplistic tendencies. These embellishments can include corbels, cabinet door arches and moldings, decorative glass doors, hutch-style cabinets and elegant furniture posts. Traditional kitchens typically feature framed, raised-panel cabinetry, and are often accented with ornate light fixtures and classic style hardware. While traditional kitchens are less popular in today's kitchen designs, homeowners may choose this style because it compliments the architecture or the character of their home better than more contemporary styles. Your kitchen design should not stray too far from the style and design of your home.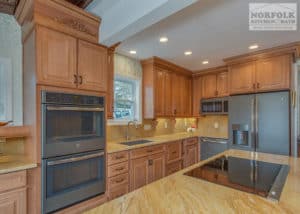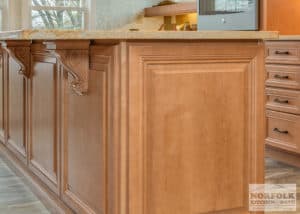 Contemporary/Modern Kitchen Style
While many people associate contemporary kitchens with modern kitchens, this is not necessarily the case. Contemporary, by definition, means "of the moment" or "current". Contemporary kitchens feature many of the current design trends and cutting-edge design elements. Currently, many of the design trends are incorporated into modern kitchen design, which is why the two terms are often used interchangeably. Check out our list of 2018 kitchen design trends to see what's trending this year.
Modern kitchen design is very simplistic and, at times, industrial. Modern kitchens tend to feature full-access cabinetry with a flat-panel (slab) door style and simple hardware, giving the kitchen an overall sleek look. Clean, horizontal lines are also an important element in modern kitchen design. You will not find many ornamental elements in modern kitchens because of the category's overall simple nature.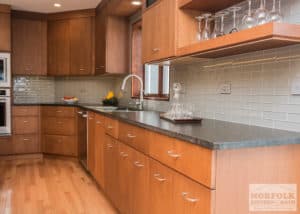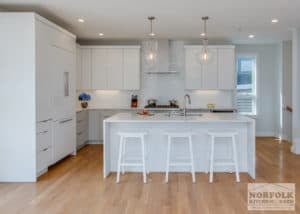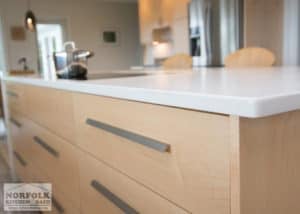 Transitional Kitchen Style
Love the idea of a simpler design, with a few added embellishments? Transitional kitchens are known as the happy medium between traditional and modern kitchen design. Transitional kitchens often have simple paneled cabinets (think Shaker), while still being of traditional all-wood construction. Homeowners often use natural surfaces for their countertops, such as granite, quartz, marble, or wood, but with simple edge profiles. Transitional kitchens are more simplistic than traditional kitchens, but feature just a hint of the embellishments that traditional kitchens are known for. If you find yourself favoriting that white Shaker kitchen with decorative glass doors and some island furniture posts, you may be a fan of Transitional kitchen design. Transitional kitchens are very popular in today's market because they take the most popular features of two other kitchen design categories and combine them into one.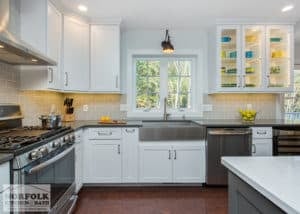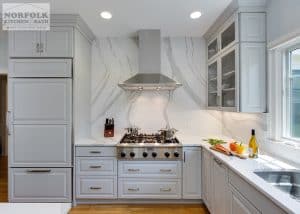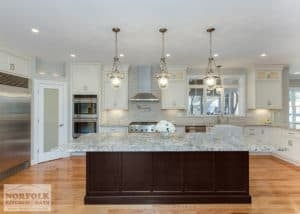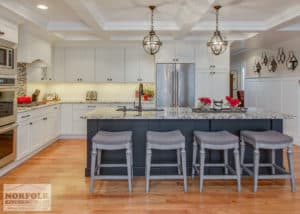 Craftsman Kitchen
Craftsman kitchen design can be traced back to early 20th century and is characterized by simplicity and warmth. This style is all about appreciating natural beauty, so these kitchens typically feature rich, stained wood cabinets, with simple light fixtures and a warm, earthy color palette. Flat panel or frameless doors, maybe a few with simple glass panes, fit the aesthetic perfectly. Craftsman kitchens also typically feature natural stone countertops, dark hardware finishes (oil rubbed bronze. antiqued copper, etc.), and built-in seating. The true decorative element typically comes from richly detailed, hand-crafted tiles for the backsplash, which brings out the character of the kitchen design.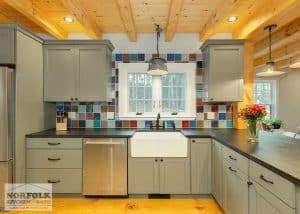 Cottage Kitchen
Cottage style kitchens are typically cozy, happy and unpretentious. They feature soft colors such as whites and pastels, farmhouse sinks, cup-style hardware, bun-feet on base cabinets, and open shelving. These kitchens typically focus more on utility than decoration. Open shelving in the kitchen allows cooks to access the tools and plates they need quickly. Beadboard cabinetry and paneling is probably the most recognizable feature of cottage kitchen style.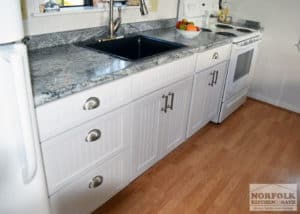 Rustic Kitchen
Rustic has made a comeback in today's culture – not just for weddings but also for home design! Rustic kitchens typically feature a distressed wood cabinet, painted or stained, with lots of natural light and antique accessories. Many homeowners accessorize their rustic kitchens with natural elements and a dark, warm color palette.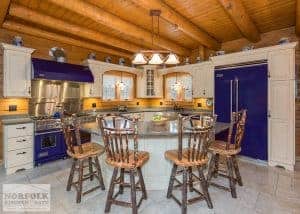 Still trying to figure out your kitchen style? Browse our Inspiration Gallery for hundreds of kitchen and bathroom design photos and ideas. Bring your favorite photos to your kitchen designer and they will help you find the perfect kitchen style, one that fits not only your tastes, but your budget.
If you're looking for kitchen remodeling in the Boston area, check our Norfolk Kitchen & Bath. We would love to help make your renovation even easier with free design assistance, quality cabinets, and professional installation. Contact us today to get started on your dream kitchen!