Trend alert! Norfolk Kitchen & Bath has compiled a list of the top 2018 kitchen design trends to be aware of when designing your dream kitchen. Incorporating some of these design trends into your kitchen or bathroom remodel is a great way to ensure that your home is both trendy & functional, especially if you plan to sell in the near future.
Clean Lines & Modern Kitchen Design
Minimalist, simple door styles are on the rise. While shaker style cabinets remain the most popular among many homeowners, flat-panel, modern cabinets have overtaken traditional raised panel cabinets as the second most popular design choice in 2018. As a result of this, many cabinet manufacturers, including our Showplace cabinet line, are releasing more and more door styles for their line of "full-access" cabinetry.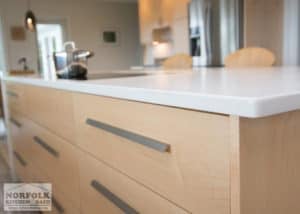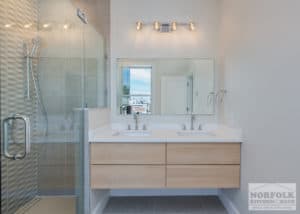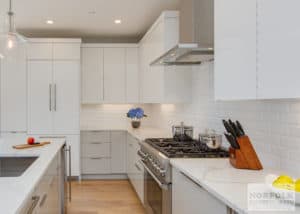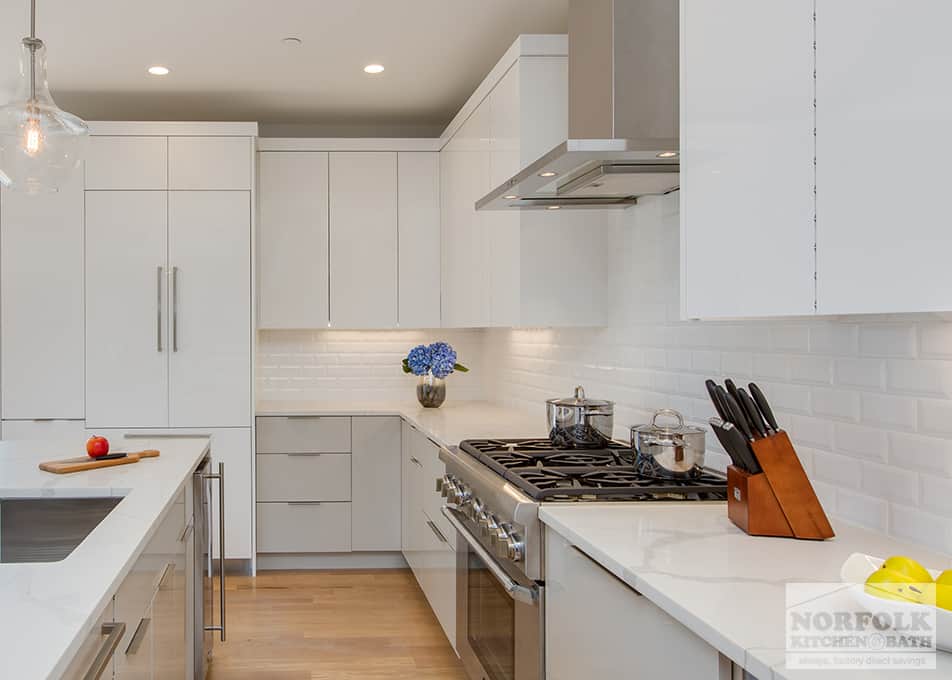 Gray Is The New White
Trying to pick cabinet colors? While white kitchen cabinets continue to top the market, gray is the new up-and-coming color poised to take over the market in the near future. Many of our cabinet manufacturers have released new gray paint and stain options to match the increased demand. Still love the white, "New England" look? Try accenting your white cabinets with a gray island to fit in with another popular 2018 trend.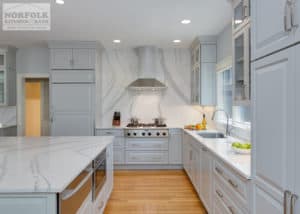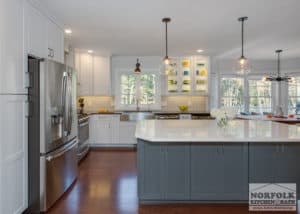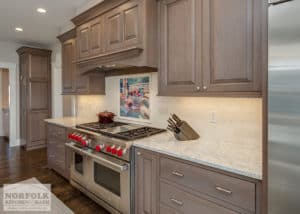 Two-Toned Kitchens
Combining different colors in kitchen design has continued to increase in popularity. While white and gray tones continue to dominate, blue hues in cabinetry are increasing in popularity and are great for accent pieces such as your kitchen island. Many homeowners also mix and match their countertops colors, utilizing both lighter and darker options to increase the complexity of the kitchen design. We expect the trend of mixing and matching colors to continue in 2018.
Quartz is Still King
For high-end kitchen countertops, quartz is still the most popular countertop material in the U.S. With more and more quartz designs entering the market and quartz being virtually indestructible and maintenance-free, we anticipate this material to dominate kitchen designs for years to come. Looking for something fresh? Keep an eye out for the release of matte finish designs in the quartz marketplace!
Effective Storage Solutions
More and more homeowners are looking to maximize the storage space they have in their kitchen. Many kitchen designs now incorporate "special features" in many of the cabinets, including deep drawers, cabinet pull-out shelving and drawer organizers. Another trend going into 2018 includes open air shelving as opposed to the typical cabinet. This may be a direct result of the modern, minimalist trend in urban areas such as Boston.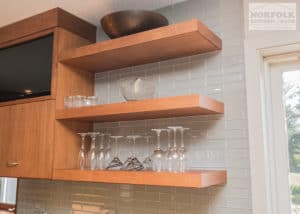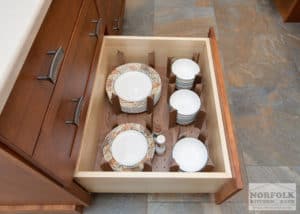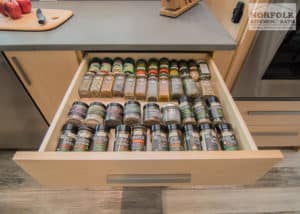 Flooring
Can't afford that beautiful hardwood in all the magazines? Fear not, hardwood-alternate flooring such as ceramic/vinyl tile has increased in popularity over the last year. Many flooring companies continue to come out with new, fresh designs that look exactly like hardwood. Bonus – this type of flooring is usually much less maintenance than your typical hardwood flood, and is more resistant to water and bacteria.
Hardware & Appliance Trends
Brass is back! While chrome and satin remain very popular in kitchen design, many experts predict the return of the shiny brass from yesteryear.
What's new in appliances? Slate matte finishes are predicted to trend upwards, as an alternative to the typical stainless-steel appliance because of its fingerprint resistance. Colored sinks are also expected to make an appearance in kitchen designs this year as opposed to the typical steel or white.
Home automation, including hands-free faucets, built-in charging stations and internet-connected appliances are also continuing to trend upward in kitchen design.
Whatever Your Style Is, We Are Here to Help
While designing a kitchen that is trendy can be important when you resell a home, a kitchen design should ultimately reflect who you are and how you plan to use your space. View our Inspiration Gallery for some design ideas, along with different ways to incorporate these new trends into your kitchen.
If you're looking for kitchen remodeling in the Boston area, check our Norfolk Kitchen & Bath. We would love to help make your renovation even easier with free design assistance, quality cabinets, and professional installation. With more questions, call our experts today at (877) 336-9652.