If you are renovating your kitchen, you may be wondering if a kitchen backsplash is necessary. The short answer to this question is no, a backsplash is not necessary in the same way that a stove or a sink is. However, most kitchen designers will recommend that you put some type of kitchen backsplash in your new kitchen.
So, should you put a backsplash in your kitchen remodel? Here are a few things to consider before you decide one way or the other.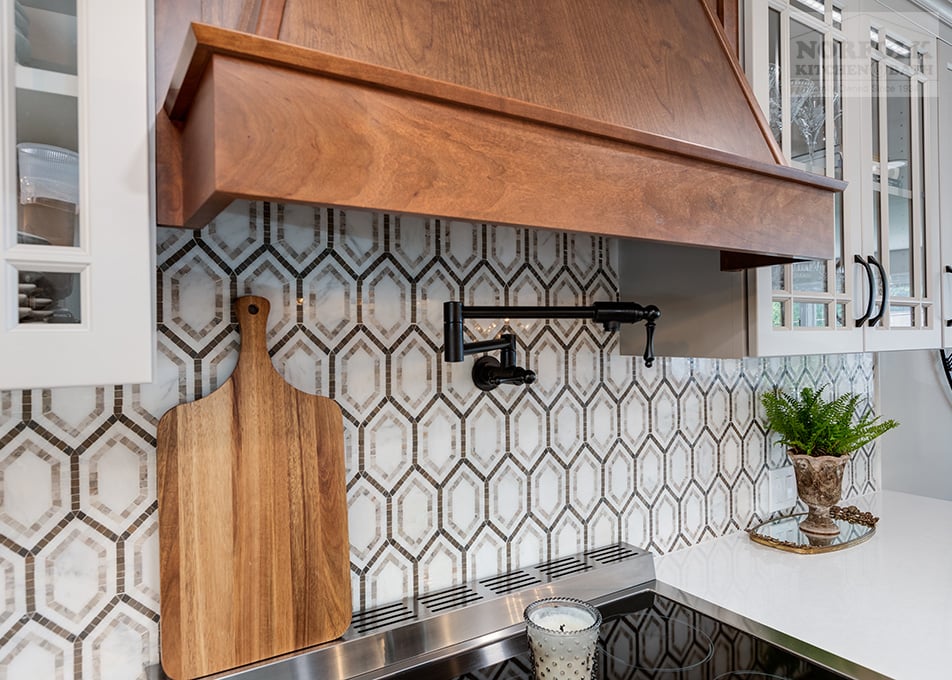 How Important Is A Backsplash?
The importance of a backsplash varies from homeowner to homeowner. A backsplash is, essentially, an extension of your countertop. It can extend as low as a few inches off the wall or as high as the ceiling. The purpose of any backsplash is preventing water, grease, and other messes from damaging your walls, particularly behind stoves and sinks. In addition, backsplashes also offer unique colors and design patterns to customize a kitchen to your unique style.
While backsplashes may be vital in busy households, others view backsplashes as a luxury rather than a necessity. It is up to you to decide what is best for your family's lifestyle needs.
Are Backsplashes Out Of Style?
Rest assured, backsplashes are not out of style! In fact, most of the kitchens we remodel each year feature some type of backsplash. However, certain colors & materials are more prevalent than others.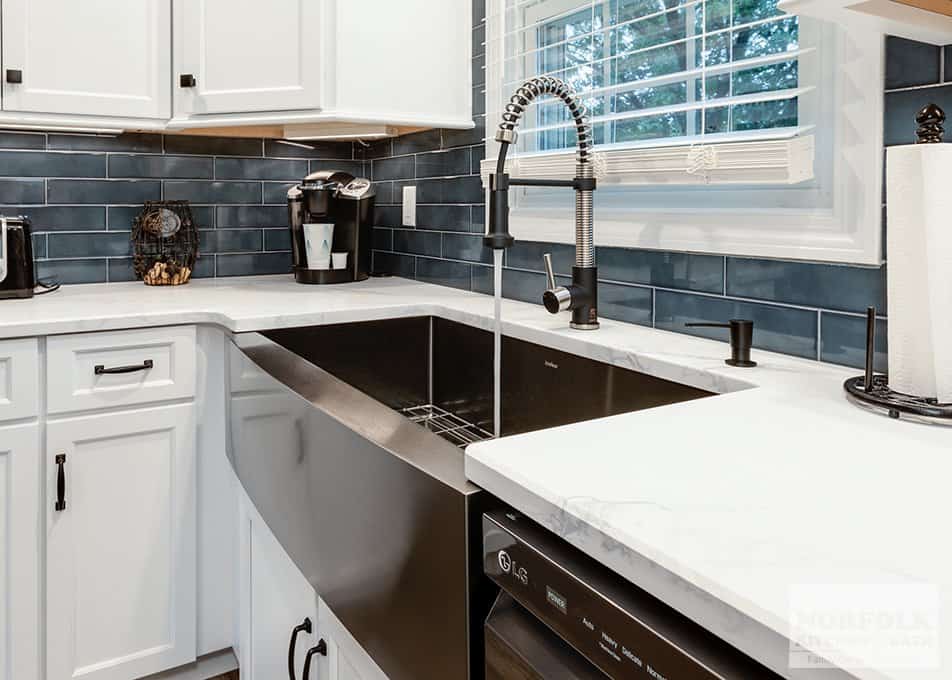 Neutral colors, like white and gray, dominate today's kitchen backsplash trends. However, natural elements are a growing trend over the last few years, which means blues, greens and natural textures are making their way back into kitchen design. A tiled backsplash is a terrific way to incorporate some of these popular colors and styles without making your kitchen appear "too trendy'.
Another popular trend is full-height backsplashes that extend past the upper cabinets to the ceiling. This gives the whole area a cohesive, finished look. Adding height to your kitchen backsplash can make your whole space feel larger than it is.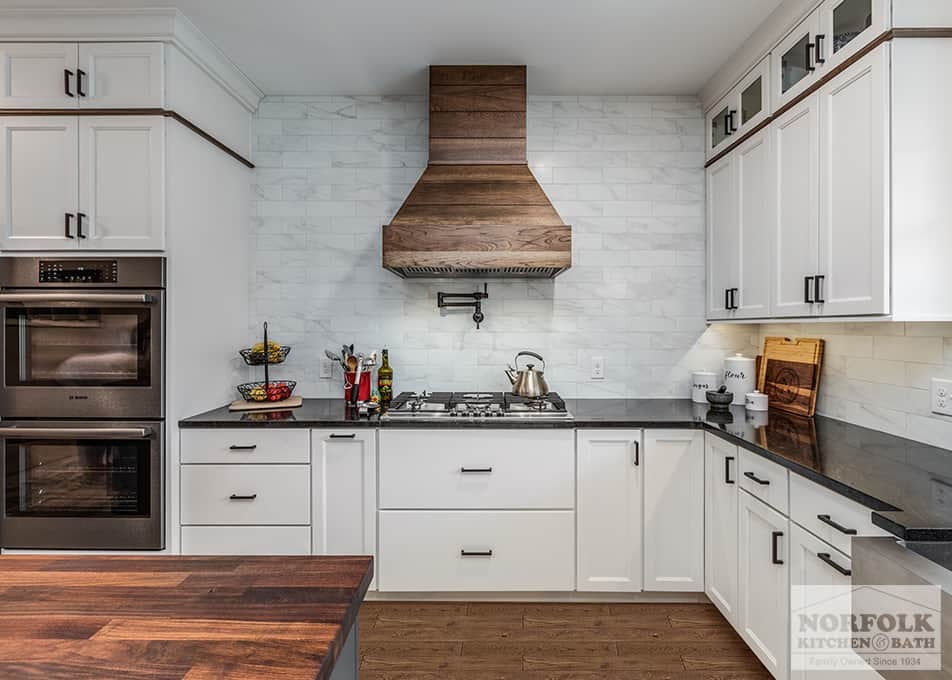 Does a Backsplash Add Value?
You may have heard the saying that kitchens and bathrooms sell homes. A backsplash can pull a whole kitchen design together, elevating any kitchen design for a reasonable cost. This upscale look can result in value added to your home. However, choosing a polarizing backsplash can alienate potential buyers, and hurt your home's resale value. If you choose to add a backsplash to your kitchen before selling, make sure to select something that complements the rest of your design.
Kitchen Backsplash Ideas
There are many types of backsplash materials to choose from for your tiled backsplash, including: ceramic, porcelain, glass, stone and more.
Ceramic
Many homeowners love ceramic tile because it strikes a balance between durability and affordability. It is water, stain & heat resistant, easy to install and among the most affordable backsplash tile options on the market. Ceramic also comes in a variety of color and pattern options, from neutral tones to eye-catching colors and patterns.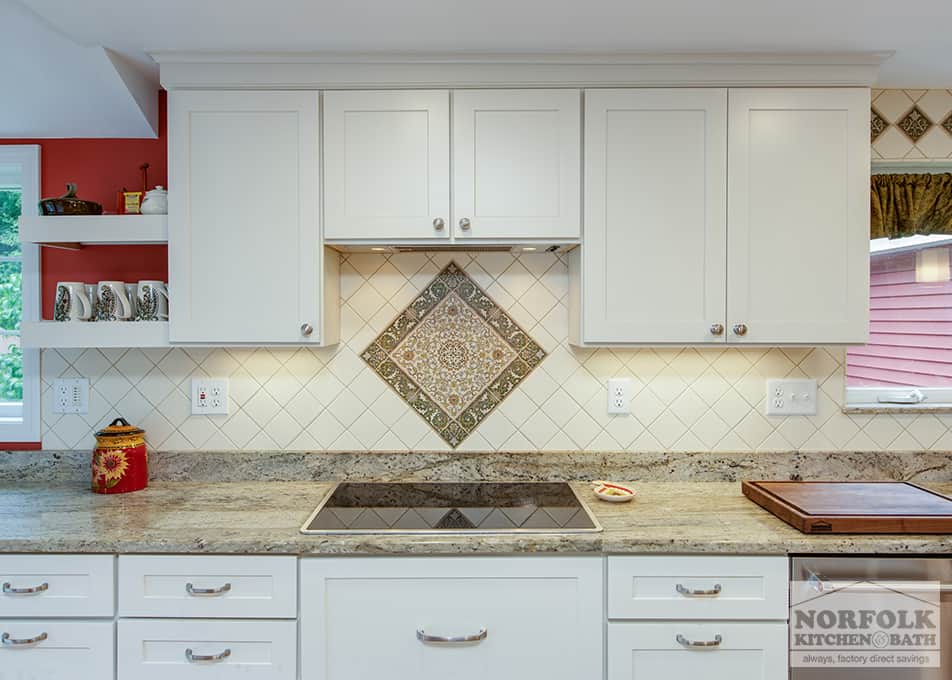 This white kitchen remodel features a custom Italian ceramic tile, giving the design a warm, traditional feel. To save on costs, the homeowner used the hand-painted tile behind the stove and over the sink as a focal point, using a complementary neutral color for the rest of the backsplash.
Porcelain
An innovative product made from compressed clay dust, porcelain tile is more expensive than ceramic tile, but has gained popularity in recent years with homeowners & interior designers alike. Porcelain is extremely durable, waterproof, and available in various glazing options and textured finishes.
Glass
Impervious to water and relatively easy to clean, glass tile is a natural choice for kitchens & baths alike. Glass is reflective, offering luminosity to any kitchen design, and is available in a range of iridescent colors and chic patterns. The drawback? A glass tile backsplash can be challenging to install and can be expensive depending on the pattern you choose.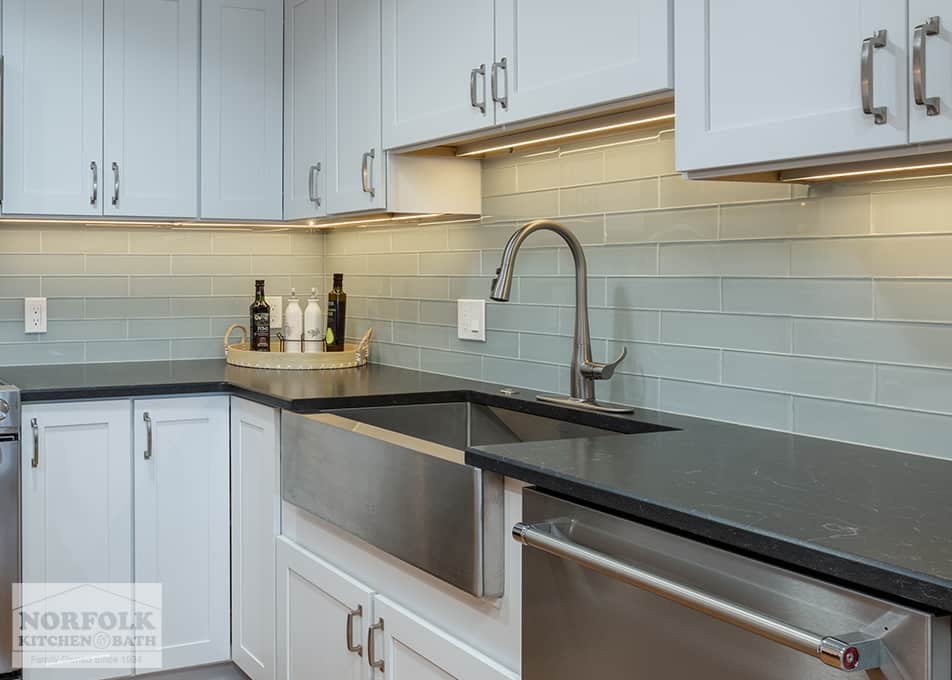 This kitchen features a glass tile backsplash in a neutral grey tone. The luminescence of the glass reflects light off the surface, making the grey color appear lighter than a traditional ceramic.
Stone Slab
Stone slab backsplashes are a popular choice in today's kitchen design, because of their cleanability and high-end appearance. Stone slab backsplashes can be fabricated from any of today's popular stone countertop materials, including granite & quartz.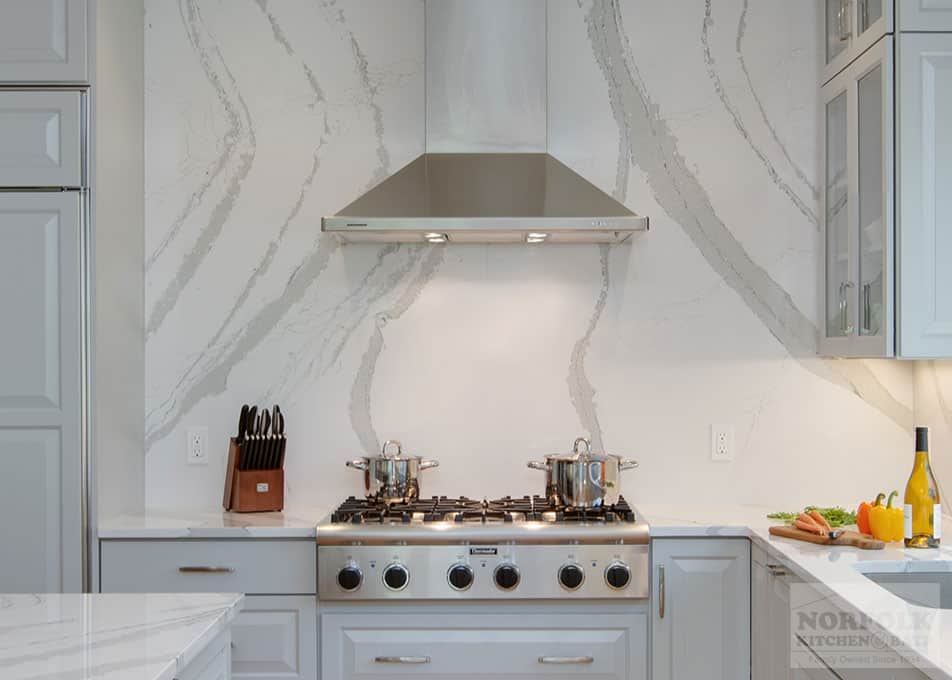 This kitchen chose to match their backsplash to their Cambria quartz countertops and extended it, past the wall cabinets, all the way to the ceiling. In addition to being easy to clean, stone slab backsplashes have a high-end, luxurious feel and can give your kitchen design a true wow factor.
Marble Tile
The pinnacle of elegance, marble tiles are a beautiful addition to any kitchen design. However, marble tends to be extremely expensive and prone to stains & scratching, making it a less practical choice for your backsplash tile. If you like the marble look, consider a marble-like design in a more durable material, such as porcelain.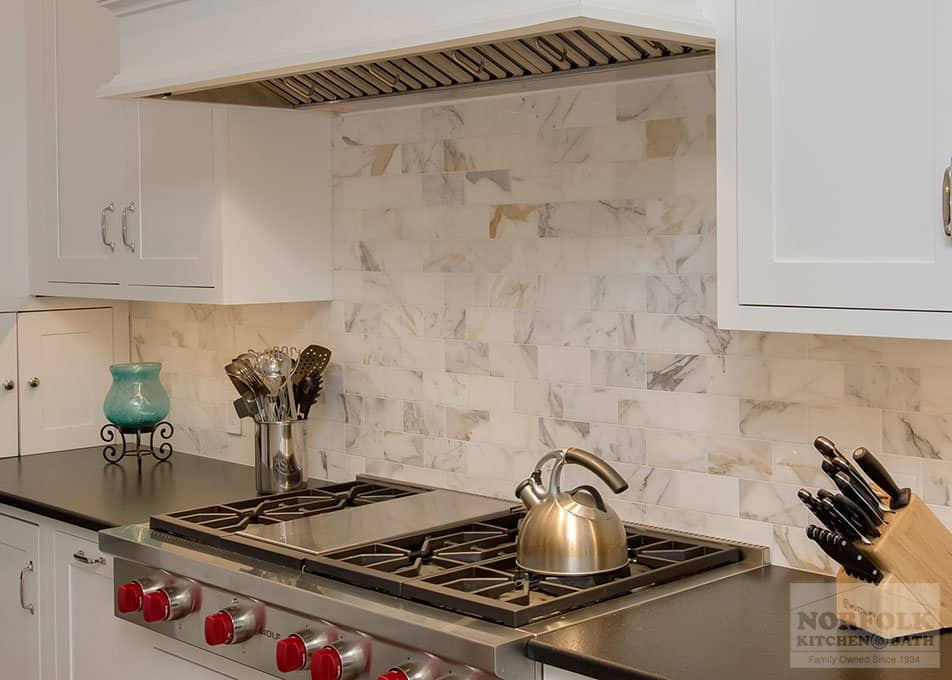 Peel & Stick/Groutless Tile
An up-and-coming trend in kitchen backsplashes is the peel and stick tile. This material can give your kitchen a noticeable upgrade at a minimal cost, as a simple DIY project. Tons of style and pattern options are available, and no grouting is needed.
The drawback? Peel & stick tile is typically less durable than other backsplash materials and may need to be redone after a few years.
What Can I Use Instead Of A Backsplash?
If big, beautiful backsplashes aren't your thing – that's okay! There are other ways to protect your kitchen walls from getting damaged. Here are some alternatives for your new kitchen:
No Kitchen Backsplash, Just Paint
Did you know that there are paints designed specifically to resist moisture and bacteria? While typically used in bathrooms, this type of washable paint can better withstand the messes of a busy kitchen and offers easier cleanup than traditional paint. Semi & high gloss painted walls are easier to clean than your typical satin finish, so keep that in mind if you opt for a kitchen without a backsplash.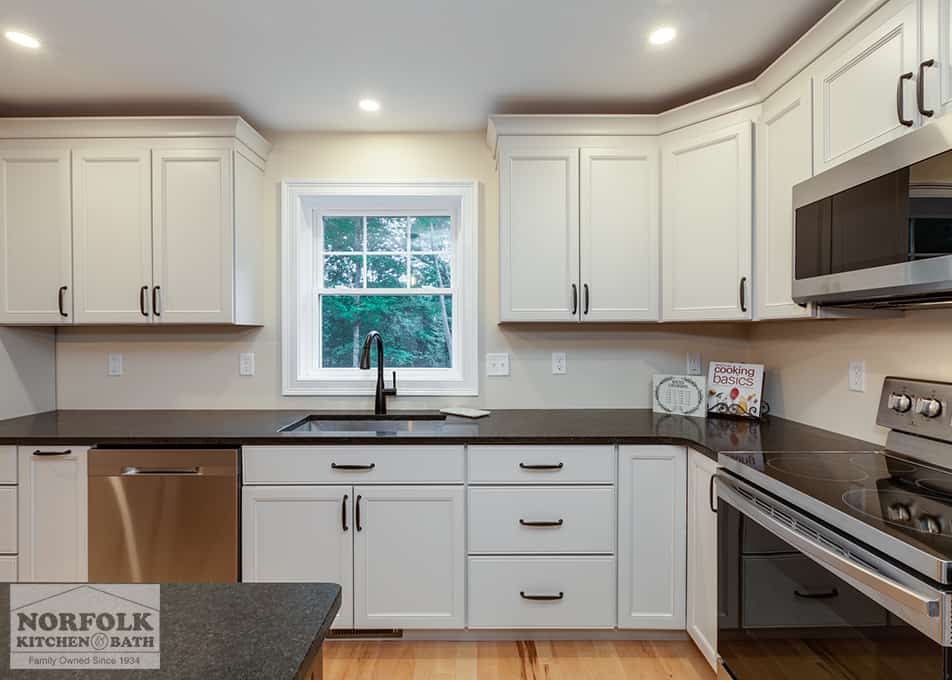 This kitchen, designed with white shaker cabinetry and quartz countertops, offers a sleek, modern look with no backsplash. The neutral paint color offsets the dark colored countertops and matches the overall simplicity of a true Shaker kitchen design.
Design Tip: Painted walls don't have to be simple! Consider adding a stencil design for some added personality and visual interest.
Wallpaper
Wallpaper is making a comeback in today's home design and has tons of style options for any kitchen. It can give your kitchen design a custom look at a fraction of the cost of tile, making it an appealing backsplash alternative. Plus, many wallpaper choices are DIY-friendly!
Although some wallpaper is manufactured to withstand typically backsplash use, the paper will eventually bubble, peel or tear. If longevity isn't a concern, wallpaper makes a great alternative for any homeowner who doesn't want a conventional tile backsplash.
Shiplap
Shiplap can add some texture and visual interest to your kitchen without becoming a distraction. It can also be painted with a moisture-resistant paint & sealed with caulking for maximum wall protection. You can cut & paint the boards yourself, from sheets of plywood, as a budget-friendly DIY project.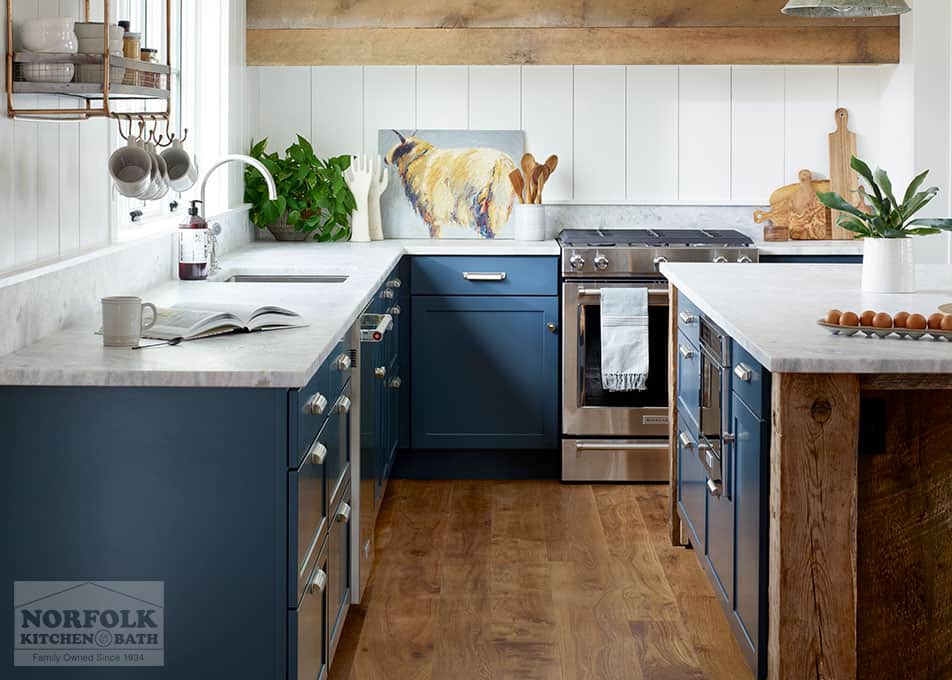 Partial Backsplash
If you don't want anything too eye-catching, but still want to protect your walls, a partial backsplash may be a good compromise. A 4- to 6-inch-high backsplash is enough to protect the lower part of your drywall. If you don't want to draw any attention to your backsplash, you can ask your kitchen countertop fabricator for a backsplash in the same material.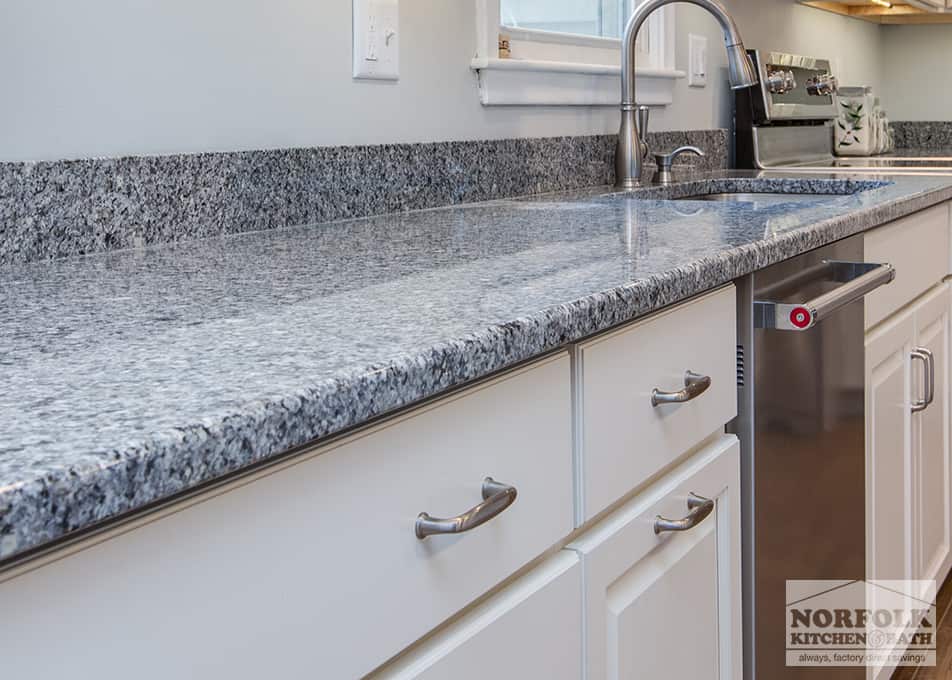 This white kitchen features a small 4-inch backsplash that matches the granite used in the countertop.
Kitchen Backsplash Inspiration
There are thousands of kitchen backsplash options available on the market. If you are undecided if a backsplash may be right for you, check out our Inspiration Gallery online to view what recent clients have selected for their kitchen. You can also check out Google or Pinterest for unique options and photos to show your kitchen designer. Your imagination is the limit!
Remodel Your Kitchen With Norfolk Kitchen & Bath
Norfolk is New England's largest family-owned kitchen showroom, with six locations in Massachusetts & New Hampshire that showcase today's latest trends in kitchen cabinets, countertops, backsplashes & more.
Need help deciding if a kitchen backsplash is right for you? When you work with Norfolk, you are working with true kitchen experts. Whether you decide to incorporate a kitchen backsplash or not, our design team is ready to curate a kitchen to your unique style and preferences.
Schedule your FREE design consultation today to get started!