Adding a kitchen backsplash is an easy and usually affordable way to spruce up an existing kitchen, or to complement a brand-new kitchen design. Backsplashes are available in a wide variety of materials and colors, making them a great opportunity for a homeowner to showcase their own style.
Backsplashes were initially used in kitchen designs to protect the walls from food and liquid splatter or to cover up small gaps in the wall. Now, backsplashes have transformed into a decorative element in your kitchen that can either stand out as a transformative element or complement the color scheme of the kitchen cabinets to give the kitchen a finished look. Often, homeowners find choosing a backsplash to be one of the more difficult choices in a kitchen remodel, simply because of all the options that are available.
Tile
The most popular kitchen backsplash choice of today is tile because of its typical affordability, cleanability, and diversity. Tile comes in many different shapes and materials, such as subway, mosaic, ceramic, glass, stone, porcelain, penny, and many more. Tile backsplashes can be extremely affordable or high-end depending on the material and whether it comes on a peel & stick sheet or has to be installed individually. The three most popular tile backsplash types are ceramic tile, glass tile & stone/marble tile.
Ceramic tile is affordable, lightweight, durable, and easy to install in your kitchen. They also come in a wide variety of colors, sizes, and patterns to choose from.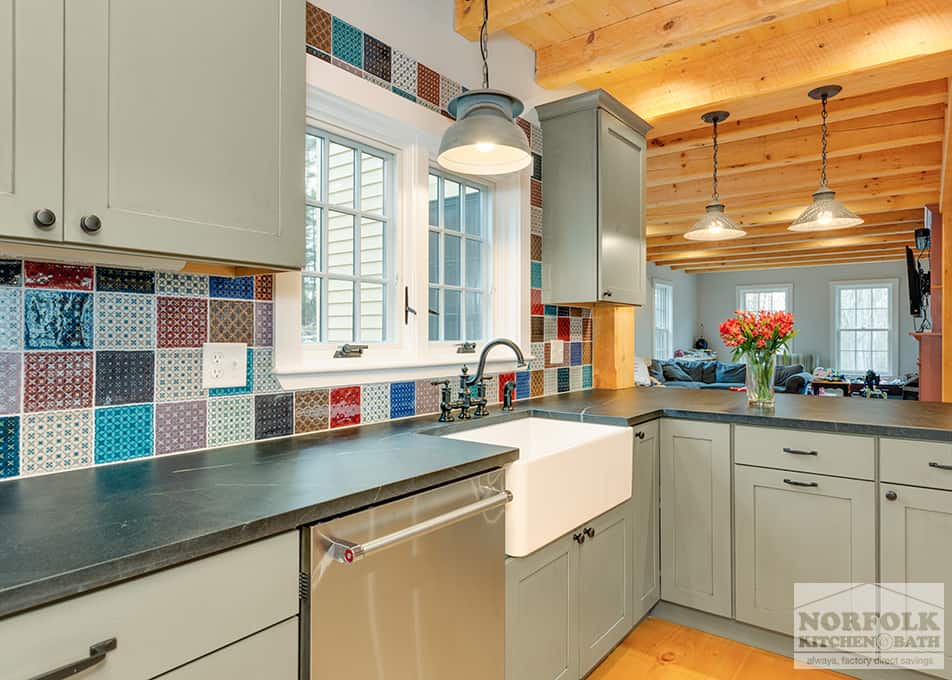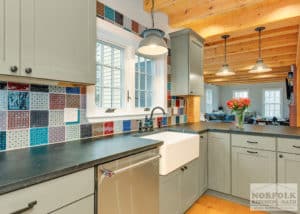 Glass tile, despite being slightly more expensive and trickier to install, can add a beautiful design element to your kitchen. Glass tile backsplashes come in a variety of colors, and, being slightly transparent, allow you to go bolder with your color choices and add a bit of visual interest to your kitchen backsplash without overwhelming the eye. Glass, like ceramic, is very easy to clean and maintain.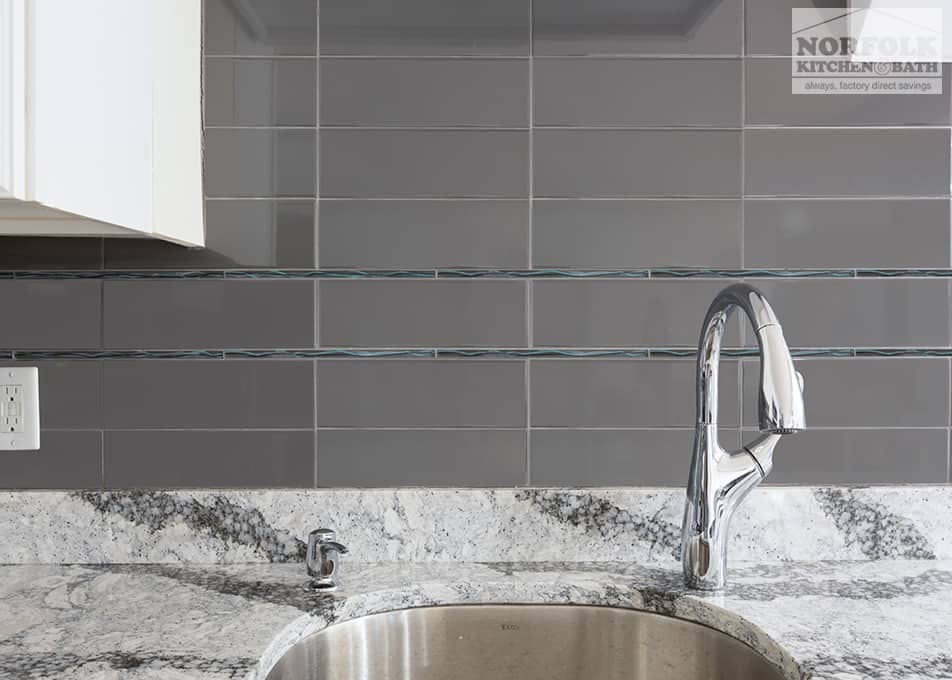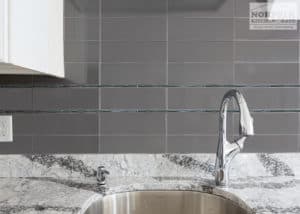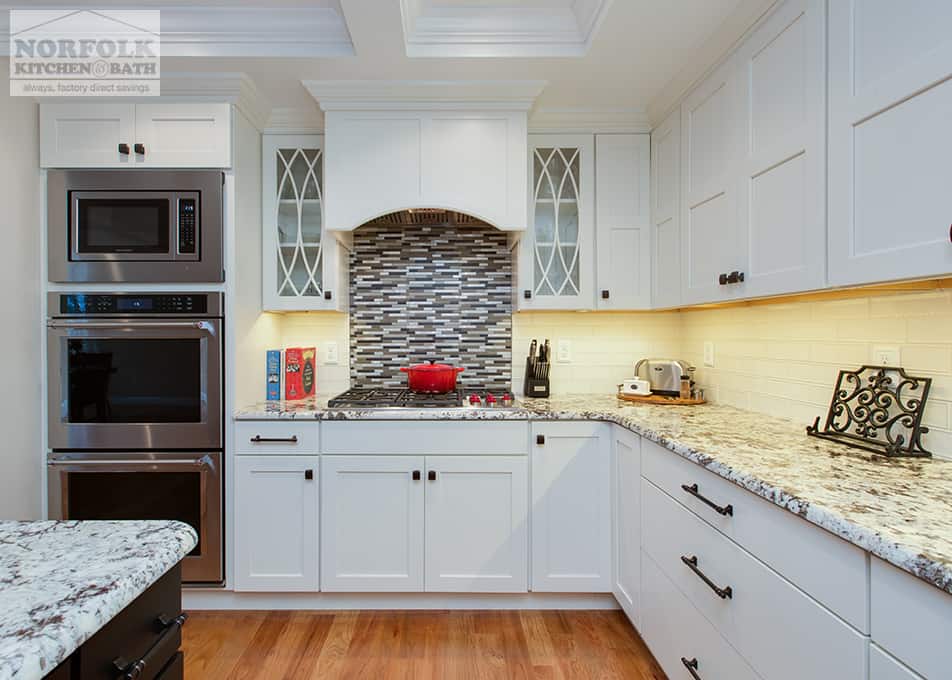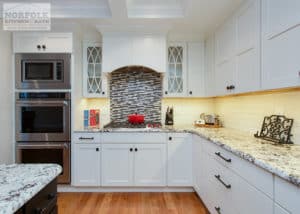 Stone/Marble tile is a luxurious add-on to any kitchen design but can be pricey compared to other options. Marble tile is easy to clean and is a beautiful compliment to any cabinet or countertop color. If you are looking to put marble in your kitchen, be aware that it may need frequent sealing to maintain its appearance, and can chip, crack, and stain very easily.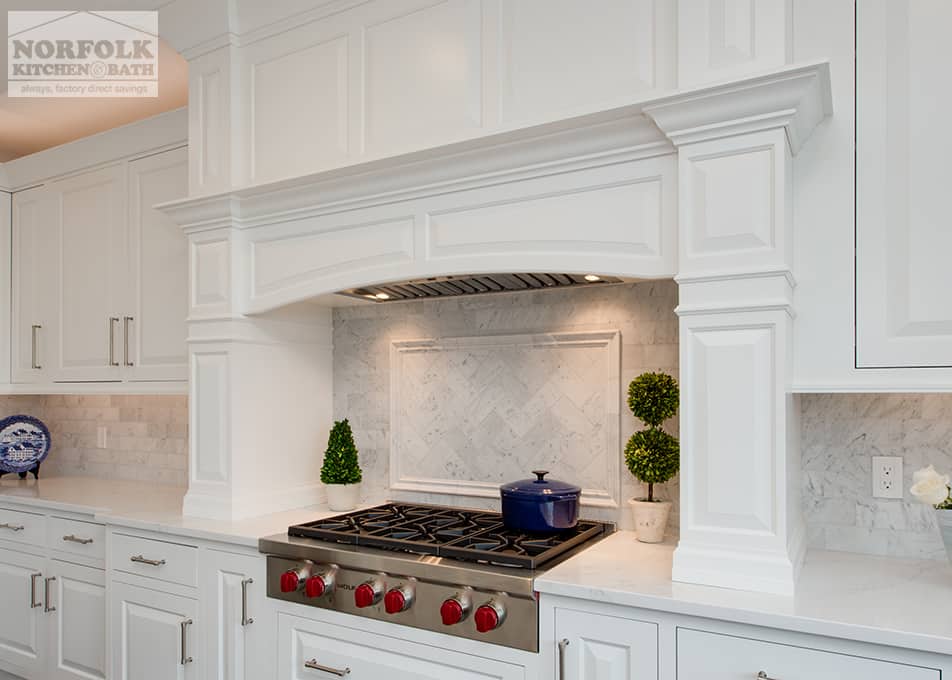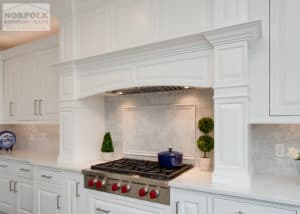 The pattern that tile backsplash is installed in, not just the material or the color, can also change the look of your kitchen. Love the look of white subway tile? Try mixing it up by arranging the tiles in a herringbone pattern, or even vertically instead of horizontally! Want your kitchen backsplash to be unique? Look out for some custom handmade tiles to make your kitchen truly one of a kind.
Stone
Another popular backsplash option is stone. Granite, quartz, marble – many homeowners choose to use the same stone material they used for their countertop in their backsplash. This can really transform the look of your kitchen design but can be pricey depending on the type of stone you use, as well as the amount. If you are looking for a truly high-end custom look, try using a stone slab all the way up the back wall of your kitchen. You can also ask for a stone backsplash to go only slightly higher than the countertop, leaving the rest of the wall bare. Finish the look with a tile backsplash of your choice or a beautiful wall paint color.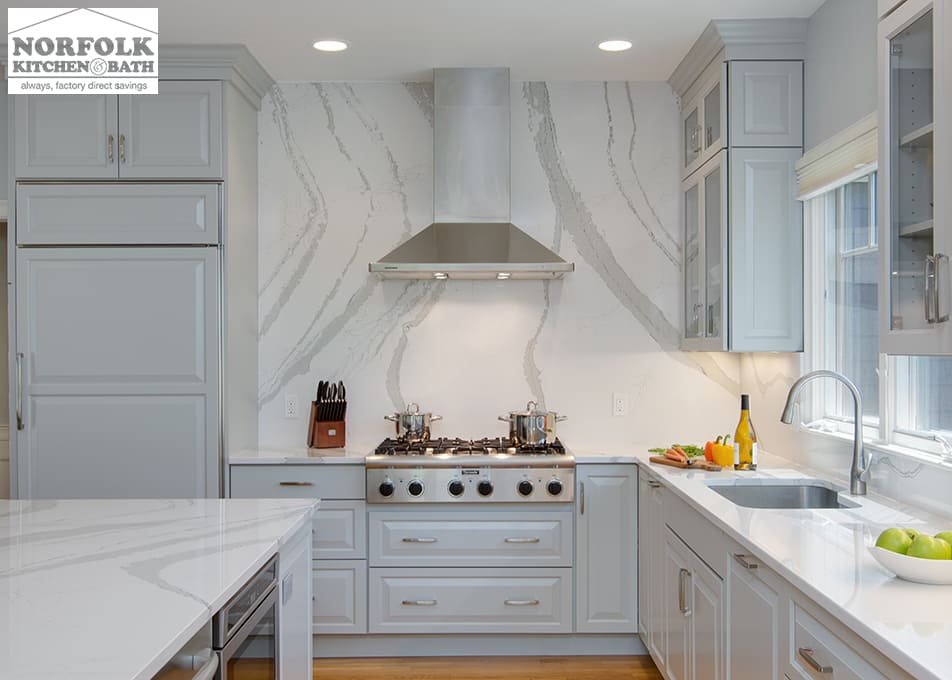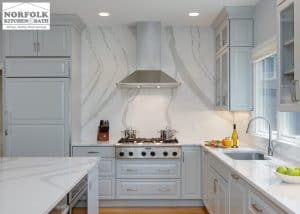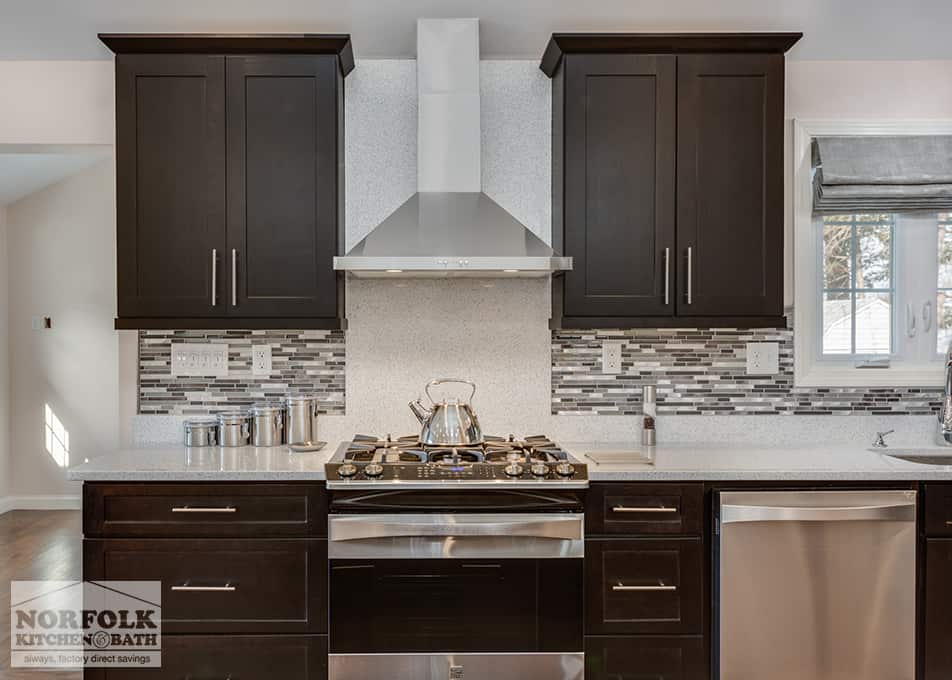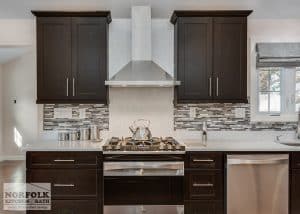 Wood
Ever since the premiere of Fixer Upper on HGTV, the use of shiplap in a kitchen has increased significantly. Cut some plywood, paint it white and arrange in a horizontal pattern over your wall space. Or, use some natural reclaimed wood as a backsplash to add charm to your kitchen. With the appropriate sealing, wood can be a great addition to any kitchen, particularly a nautical or rustic kitchen design.
Other Materials
Kitchen backsplashes are a great way to let your personality into your design! Metallics, mirror, wallpaper, industrial steel, LED – with the right installer, anything can be used as a kitchen backsplash. Keep in mind that if you plan on reselling your home in the near future, a more popular backsplash option may work better when it comes time to go on the market.
Browse our Inspiration Gallery for hundreds of kitchen design photos to get ideas for your kitchen backsplash. Or, come meet with one of our experienced kitchen designers to help plan your new kitchen design.
If you're looking for kitchen remodeling in the Boston area, check our Norfolk Kitchen & Bath. We would love to help make your renovation even easier with free design assistance, quality cabinets, and professional installation. Contact us today to get started on your dream kitchen!