Why are the small decisions always the hardest? In our experience, many homeowners have thought about what color or style they want their new kitchen to be but are totally overwhelmed when it comes to selecting their kitchen hardware. It's understandable – The sheer amount of styles & finish options makes choosing one seem impossible. Not only do you have to select a color, such as silver, black or gold, there's matte, shiny, brushed & vintage to decide between too! To help you decide, Norfolk Kitchen & Bath has compiled a list of the most popular kitchen hardware options to match your design style.
Knobs or Pulls?
Selecting knobs or pulls, or a combination of the two, is less of a science and more of a preference. Currently, the trend favors pulls, or a combination, but it is truly your preference – there are many beautiful modern finishes for both. If you decide to use any pulls for your kitchen hardware, make sure you order ones that are large enough for you to grip comfortably to open your cabinet doors or drawers. Many kitchen & bath showrooms have their hardware on display where you can test them out in person before you purchase. Once you select your style, the next step is selecting your finish.
Chrome
Chrome hardware is a classic style of kitchen hardware. The shiny aspect of chrome gives your kitchen cabinets a little glam. While not as popular in recent years, many hardware selections can be ordered in chrome finish, and the color does not vary between manufacturers as much as some other finishes. The downside? Some people consider chrome to be a little outdated, and keeping the shiny, polished look free of fingerprints can be a challenge, especially for homeowners with children.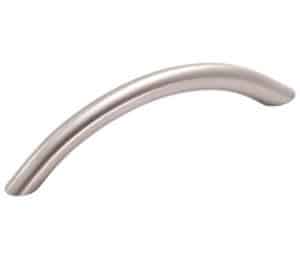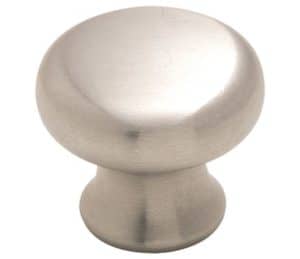 Brushed Gold/Satin Brass
A favorite on many HGTV remodeling shows, brushed gold gives off a warmer tone than chrome and is a great option to break up an all-white kitchen or accent some gorgeous blue cabinets. This hardware finish is considered very modern and trendy and is sure to be a wow factor in your kitchen remodel.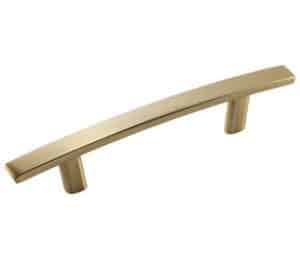 Polished Nickel
Not to be confused with "Satin Nickel", Polished Nickel is a shiny, silver finish that gives of a slightly warmer tone than chrome, while staying in the same color family. However, kitchen hardware in polished nickel finish is much harder to come by than its satin nickel counterpart.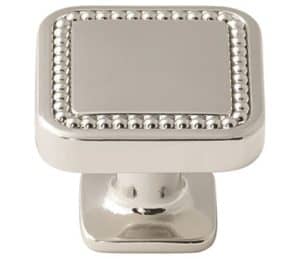 Satin Nickel
Satin nickel hardware has dominated the home design industry for over a decade, in part because it pairs well with stainless steel appliances and is also less susceptible to fingerprints than the polished finishes. Almost every hardware selection can be ordered in satin nickel, and its neutral tone makes it a perfect match for almost any kitchen design, from traditional to modern.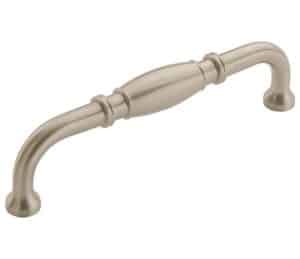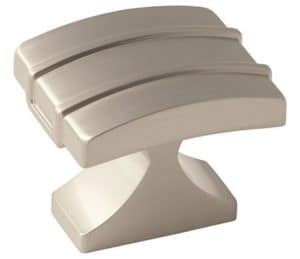 Oil Rubbed Bronze
Another very popular finish choice, this hardware is reminiscent of other old-world finishes with deep brown, almost black, colors. This style of hardware is best suited for a fancier, more formal style of kitchen. Colors and textures of oil rubbed bronze hardware can vary greatly between manufacturers, so be sure to order your kitchen hardware from the same one.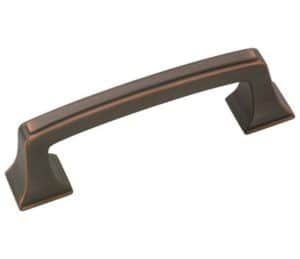 Black Bronze
Gaining popularity because of the resurgence of modern farmhouse design, black hardware is great for families because of its ability to hide dirt, scrapes & fingerprints. As you would expect, black hardware pairs very well with the popular white shaker farmhouse kitchen of today, or any classic black & white kitchen design.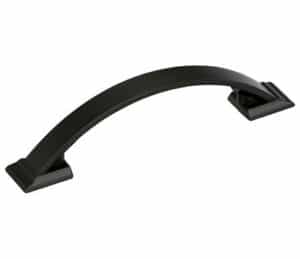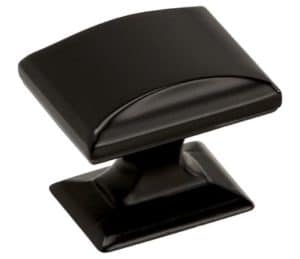 Mixing & Matching Your Kitchen Hardware
Having trouble picking just one kitchen hardware finish! Feel free to mix and match your favorite choices! Here are a few basic guidelines to follow when mixing finishes:
1. Stay Within One Color or One Finish Family
Choosing two completely different finishes may be more distracting than anything. When mixing hardware finishes, try to stay either within the same color or finish family, such as Chrome & Polished Nickel or Satin Nickel & Brushed Gold.
2. Have At Least 2 Of Each Finish
A polished brass faucet may stand out a little too much if all the other finishes are brushed nickel. But, if you pair it with a polished brass chandelier, the look you are going for will start to come together.
3. Stick to 2-3 Finishes Total
Get creative, but not too crazy. The point of kitchen hardware is to compliment your beautiful new kitchen cabinets and countertops… not to distract from them. Too many hardware finishes can confuse the kitchen design and make it difficult to know where the focus is.
Let's Get Started
Our kitchen & bath designers are here to help you design your dream kitchen, from the cabinet color to the hardware finishes. Norfolk Kitchen & Bath is one of Boston's premier kitchen & bath remodelers, with free design assistance, quality cabinets & free delivery. Check out the Inspiration Gallery for photos of some of our recent kitchen remodels and call us today for your free design consultation.