Recently, Norfolk Kitchen & Bath partnered with Building On Hope for their biennial community project to remodel the Youth Safe Haven building for the Nashua Police Athletic League (Nashua PAL), an organization that works on creating a positive attitude between local kids and the Nashua Police Department using sports and other enrichment programs.
About Nashua PAL
Nashua PAL was founded in 1989 and is currently operating out of the Youth Safe Haven, a building located in what is locally referred to as Nashua's inner-city 'Tree Streets', since 2004. On any given day, more than 65 'PAL kids' between the ages 7 – 18 come to Nashua PAL after school and during vacation periods to participate in free activities, including homework club, cooking, crafts, photography, one-on-one mentoring, boxing, open gym, gaming, young female empowerment opportunities, field trips and more. More than 400 Nashua youth are cared for each year at Youth Safe Haven at no cost to families, with the support of staff, Nashua police officers, community volunteers, and interns from colleges and universities across New England.
The Youth Safe Haven lives up to its name. It provides a safe environment for Nashua's at-risk youth to gather outside of school, even though approximately 20% of felony assaults and heroin overdoses in Nashua occur within one mile of Nashua PAL. Nashua PAL's free afterschool and summer programming is designed to help children and teens build leadership skills through educational experiences, mentoring, and the development of trusting relationships between Nashua's at-risk youth and Nashua police officers. These programs have grown exponentially over the last few years, at least 25% year-over-year since 2017. This growth, combined with an already aging 102-year-old building, necessitated the Youth Safe Haven remodel project.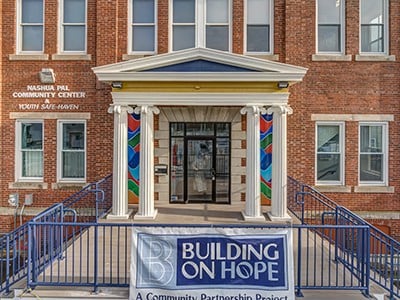 A Necessary Renovation
The building renovation, sponsored by Building on Hope, will allow Nashua PAL to optimize its space and increase services offered to more than 2,000 youth in southern New Hampshire.
At 102 years old, the Youth Safe Haven building needed a major modernization and space reconfiguration. The PAL renovation project included removing unnecessary design barriers, expanding & dividing existing spaces, and renovating common spaces for ADA compliance, along with overall building upgrades and the installation of an elevator.
About Building On Hope
Building on Hope is a community, non-profit, partnership project series centered in New Hampshire, has helped rebuild 5 community spaces and buildings over the last 10 years. These remodels take place over a short, 2-week timeframe, and many of NH's top interior designers, general contractors and suppliers donate their time and materials to make each of these much-needed renovations happen. Norfolk Kitchen & Bath has partnered with B.O.H. in the past for a community project in Concord, NH, and was excited for the chance to partner again.
The Kitchen Remodel
Norfolk Kitchen & Bath, represented by Cathy Keenan & Julie Blake, partnered with designers Kate Walen from J&R Langley /JRL Studio and Emily Shakra to design the kitchen space. Cathy & Julie worked with their cabinet manufacturer to supply quality, all-wood cabinetry for the new kitchen design. The kitchen project also included acquiring donations of a new commercial freezer, a dishwasher, a new desk area using repurposed wood beams from the 102-year-old building, as well as various decorative items.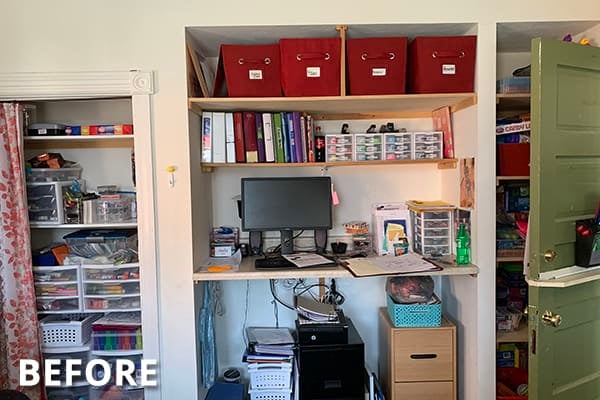 Design Challenges & COVID-19
The COVID-19 pandemic broke out shortly before construction was set to begin on the project, resulting in a 10-month project delay. This created many logistical problems, with businesses shutting down and new mask & social-distancing guidelines in place. Many cabinet manufacturers also experienced delays, resulting in extended lead times and backorders. Norfolk's chosen cabinet manufacturer, JSI Cabinetry, was able to accommodate the change in project timeline without adding any additional delays, while still providing Nashua PAL with quality cabinetry for their new kitchen design.
During the remodel, contractors discovered that the kitchen walls were made of clay, which would not support the weight of an all-wood cabinet. As a result, the entire kitchen needed to be re-framed from the inside using metal studs. This complication also necessitated some last-minute design changes since there was now less room for cabinetry.
Despite all the odds, the Youth Safe Haven remodel project was completed in January of 2021, nearly a year since original planning began.
Completed & Ready for Future Growth
The Youth Safe Haven building was upgraded with a new kitchen, new plumbing, an elevator, functional & spacious rooms for activities, fresh paint, and inspirational décor. The building is now equipped to handle PAL's increasing membership and accommodate the variety of programs they offer safely & efficiently.
A ribbon-cutting ceremony with Nashua police & other government officials was recently held via Zoom, and the newly renovated building is currently open and serving the Nashua youth community. Check out the ribbon-cutting ceremony video and some before & after pictures below!
Community Outreach at Norfolk Kitchen & Bath
Norfolk Kitchen & Bath was honored to be a part of this project for such a deserving cause in our local community. Our community has been the backbone of our business since its inception in 1934, and we are always looking for new ways to give back. If you have a community project, event, or fundraiser that you would like our help with, please reach out to our Marketing Department at [email protected]