A kitchen remodel is a valuable investment for any homeowner. In addition to creating a beautiful & functional space for your family, an updated kitchen can offer a high return when you go to sell your home. But how much does a kitchen remodel cost, exactly?
Well, since every kitchen is unique, there is no one-size-fits-all approach when determining the price. The cost of a kitchen remodel depends on a variety of factors, such as kitchen size, chosen materials, the amount of labor needed, and your location. The cost also depends on the scale of the remodel. Are you planning a small update, or a full frame-to-finish renovation?  Are you choosing all standard materials, or are you going for all premium materials and upgrades?  The sky is the limit!
One way to determine the cost of your kitchen remodel is to use your home's value. On average, customers spend 5% – 15% of their home value on a kitchen remodel. For example, a home with a $300,000 value should expect to spend $15,000 – $45,000, depending on the scope of your project.
To give you an idea of what your kitchen remodel might cost, we have compiled a guide based on three project scopes: minor, major & upscale. Please keep in mind that these are average industry material numbers and may or may not reflect the total cost of your kitchen investment. Your total cost may be higher or even lower than these amounts based on the total project scope, the amount of DIY vs. contractor labor, as well as your material choices.
Minor Kitchen Investment
For this guide, we are classifying a "minor" remodel as a basic spruce up of your existing kitchen space. A minor kitchen remodel cost is lower because it keeps the existing cabinetry and appliances and instead focuses on lower, budget-friendly updates. Minor kitchen remodels are ideal for customers with limited budgets or those who are looking to sell their home within a short timeframe.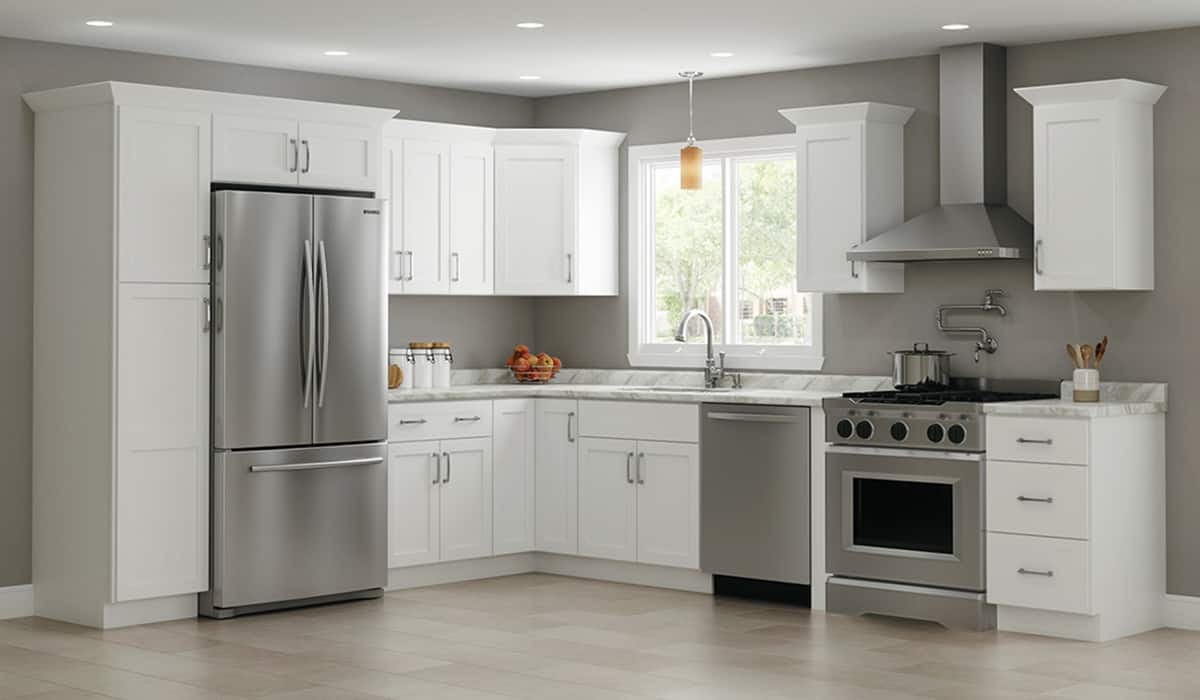 A minor kitchen remodel includes:
Painting of existing cabinets* and/or or small cabinet additions (island, pantry, etc)
Entry-level stone countertops, kitchen sink & faucet
Freshly painted walls
Updated light fixtures
AVERAGE MATERIAL COST: $5,000 – $15,000**
Designer's Note: While painting cabinets may be a low-cost way to update the exterior of the cabinet, it does not fix any functionality issues with the kitchen design itself. If your cabinets are not structurally sound or do not function well for your needs, you may want to explore your options for replacement, as it may save you money in the long run. Many remodeling companies will not replace the cabinetry without also replacing the countertop, due to possible damage that can happen during removal/reinstallation.
---
Major Kitchen Investment
A "major" remodel is a renovation of the existing kitchen space without any major footprint changes (i.e. taking down walls, moving plumbing, etc). The average cost of a major kitchen remodel factors in the replacement of all cabinetry with a mid-range cabinet, no exotic woods or custom colors, as well as a standard island and granite or quartz countertops.
Major kitchen remodels are ideal for homeowners who have waited a long period of time between kitchen updates and/or whose cabinets are no longer functional or structurally sound. A major remodel may also be ideal for those looking to sell in the near future, as it offers a better return on investment than an upscale kitchen renovation.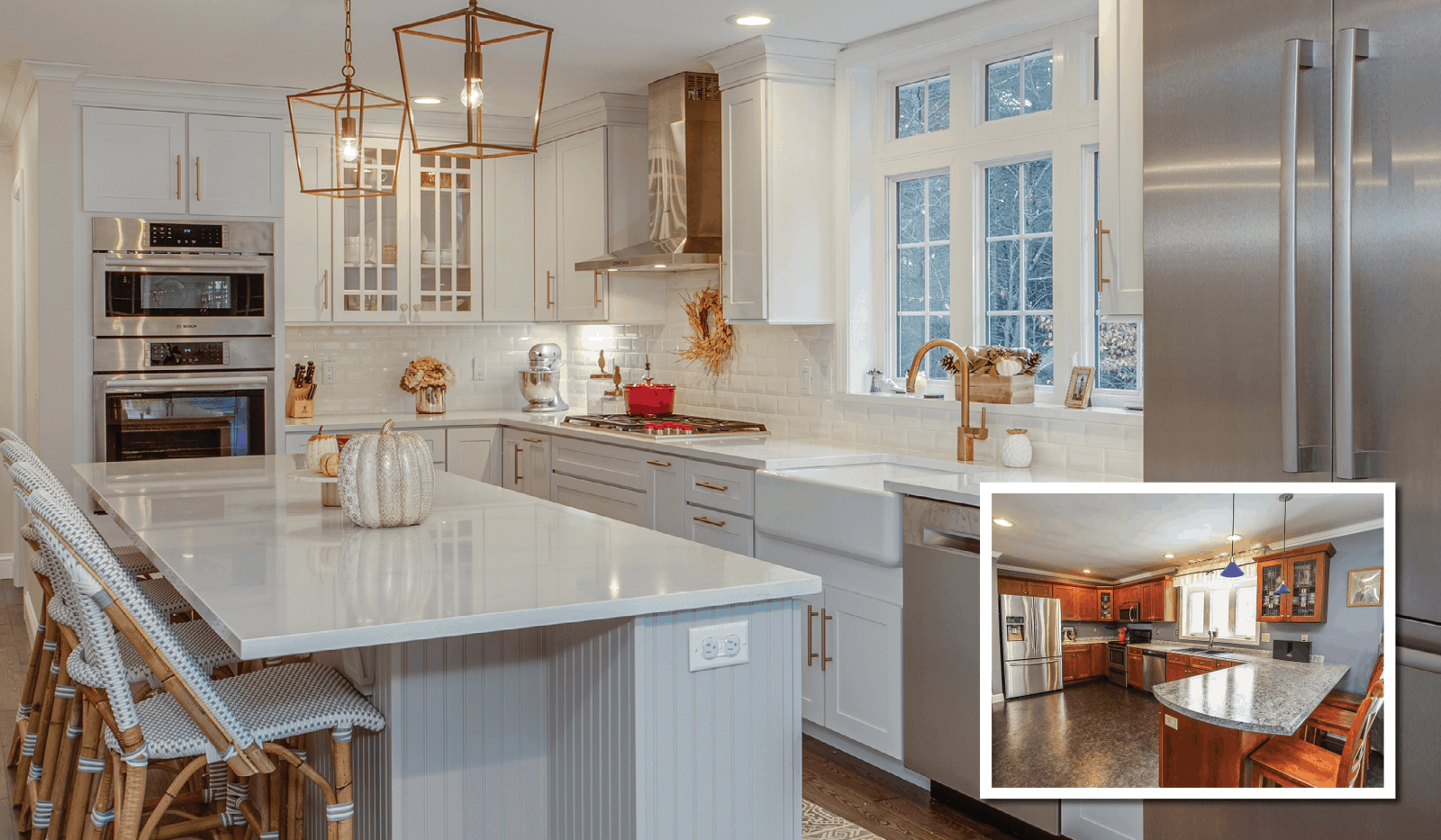 A major kitchen remodel includes:
Semi-custom cabinetry to match existing floorplan and a standard size island
Granite or quartz countertops, kitchen sink & faucet
New light fixtures
Updated flooring
Tile backsplash
Freshly painted walls
AVERAGE MATERIAL COST: $25,000 – $40,000**
---
Upscale Kitchen Investment
An upscale remodel is the cream of the crop, with top-of-the-line selections and footprint/structural changes to improve functionality. Choose from inset or full-overlay cabinetry construction, traditional & exotic wood species and hundreds of finish options, including custom color matching if needed. An upscale kitchen remodel is best suited to a homeowner that is designing their "dream kitchen". It may also be ideal for someone who lives in a high-end neighborhood and needs to match buyers' expectations.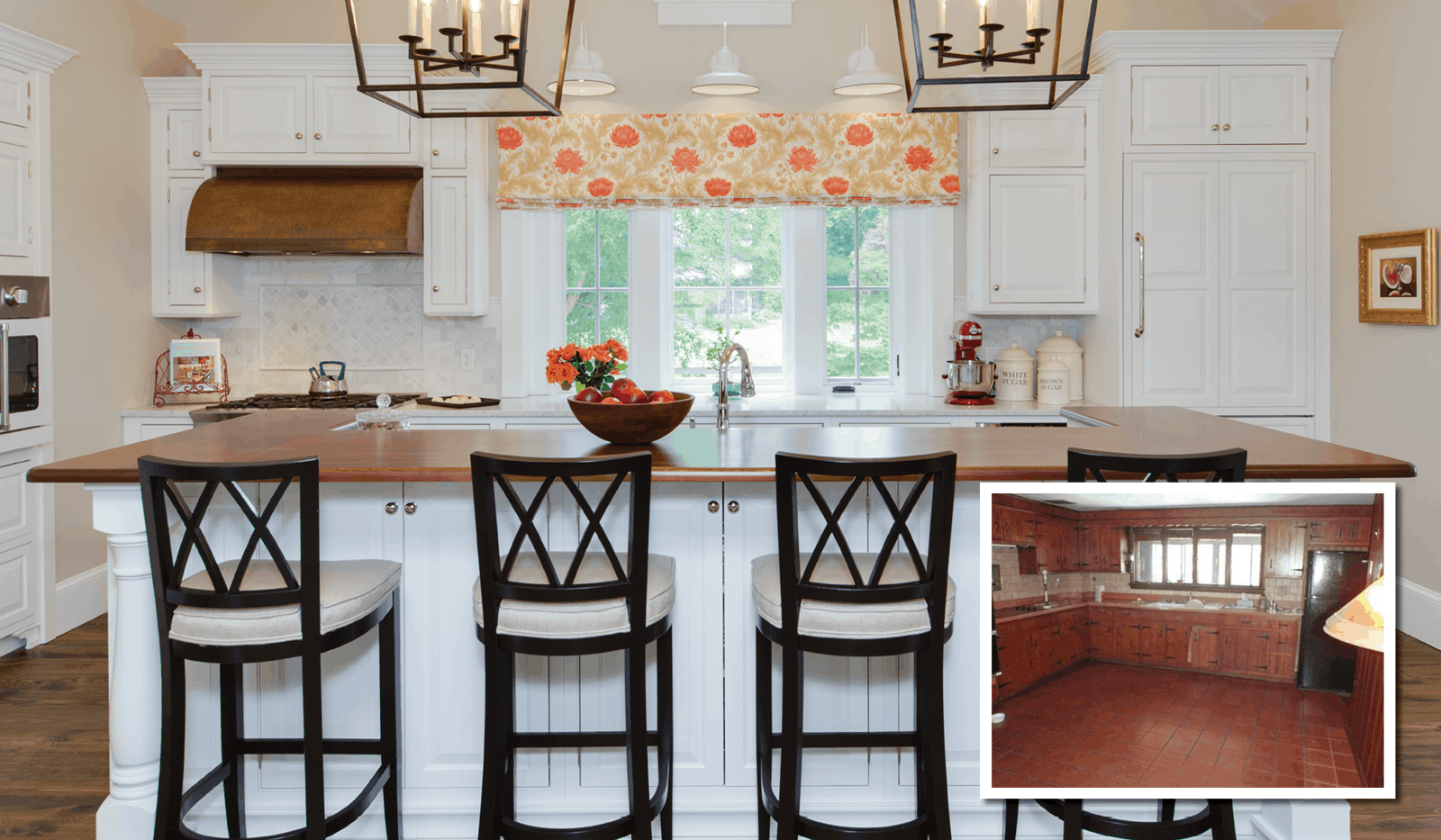 An upscale kitchen remodel includes:
Custom cabinetry with interior accessories & upgrades
A large island with bar seating
New stone countertops, kitchen sink & faucet
High-end light fixtures & task lighting (undercabinet lights)
Upscale tile or hardwood flooring
Custom tile or matching stone backsplash
Freshly painted walls
AVERAGE MATERIAL COST: $40,000+**
Questions To Ask Yourself When Estimating Your Kitchen Remodel
Why do I need to remodel my kitchen?
How long do I plan to stay in my home?
Does the layout of my current kitchen match my goals for my new kitchen?
Are my cabinets in good condition?
Get Your Free Estimate At Norfolk Kitchen & Bath
The first step to determine your kitchen remodel investment is a free consultation with a member of our design team. Norfolk is New England's largest locally owned kitchen & bath showroom, with 6 showrooms in the Greater Boston area and is proud to offer kitchen cabinets for any budget. Whether you are looking for a small update or a full-scale kitchen remodel, Norfolk has a variety of cabinet doors styles & finish options to choose from, along with in-stock cabinetry for quick turnarounds. Norfolk Kitchen & Bath offers free expert kitchen design, free in-home measuring services, and professional home delivery to our customers. Stop by a showroom today to browse some of our many offerings, or request a free design consultation today!
---
*Many kitchen remodeling companies, including Norfolk Kitchen & Bath, do not offer cabinet painting services. Please contact a professional painter for exact pricing for your kitchen.
**No two kitchen remodels are the same. There are many variables that can affect the overall cost. These numbers are industry averages and they exclude labor and installation, since these can vary widely by location and scope. Please see your design consultant for an exact estimate for your kitchen remodel.