Kitchen islands are one of the most frequently requested design element in a kitchen remodel. While many homeowners know that want an island, many don't realize that islands are incredibly versatile and can be customized to suit your specific kitchen needs. Typically, a kitchen needs a clearance walking space between 36-48" to accommodate an average island. Whether you choose a standard island or an oversized or multi-level island, you will want to consider the function that a kitchen island will serve in your home and plan your design around those needs.
Oversized Kitchen Islands
Oversized islands are great for entertaining and food preparation. Homeowners who have frequent house guests and find themselves lingering in the kitchen often use large islands as a gathering space. Those who enjoy cooking large meals can appreciate the extra preparation room that a large island provides. Oversized islands also give you the opportunity to place cabinetry on either side of the island for extra storage space, should you need it.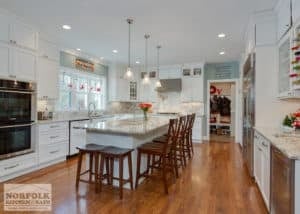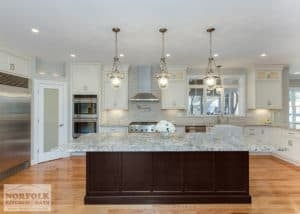 Multi-Level Island
Multi-level islands can serve many purposes. The multiple levels allow a separation between the meal prep area and the dining space, and, when designed effectively, can hide meal prep messes. Multiple levels also mean multiple countertops, which allow homeowners to mix up their countertop choices, giving you a chance to add some personality to your kitchen island design.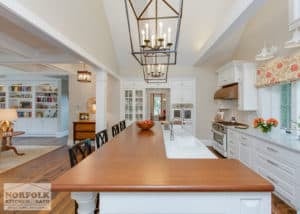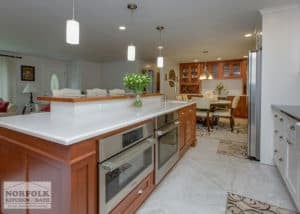 Islands With Seating
The bigger the kitchen island, the more space you have for seating guests. A 48" island has more depth to accommodate a seating area and a prep area without too much overlap, as opposed to your typical 36" island. Depending on the style you choose, there are also various types of stools to accommodate different island heights. You can also design a seating bench to match your kitchen cabinets instead of searching for that perfect piece at your local furniture store.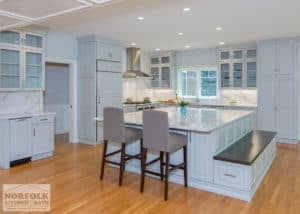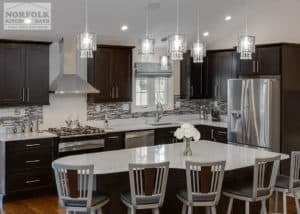 Kitchen Island Accessories
The options are endless: open shelving, trash pull-outs, furniture posts, deep storage drawers, a cooktop, even a microwave oven or extra sink! When deciding what to load into your kitchen island design, you should also be aware how each decision can affect the look, feel, and function of your overall kitchen design. For example, when installing a cooktop into your island, keep in mind that you will need to install a hood or a downdraft, which may affect your plans for island lighting. The type of home you have may also prevent you from certain island upgrades because of access to electrical and plumbing, so check with your contractor before finalizing the design of your kitchen. If you are looking to build in a microwave oven or mini-fridge, be sure that you will have enough room on your island to place hot bowls or cold drinks when there are guests sitting.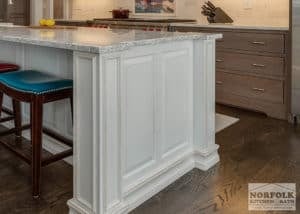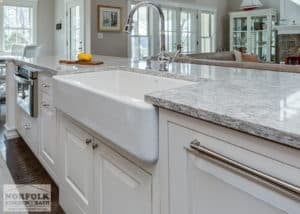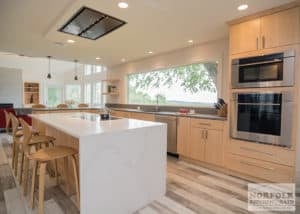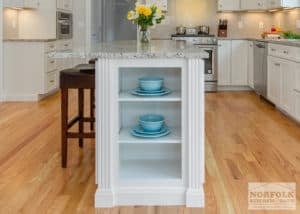 Not Sure Where To Start? Let Us Design Your New Kitchen Island!
Determining what you are most likely to use your island for is the key to deciding what to plan for in your island design, and increases the likelihood that you will be happy with the final result. Not sure what island design options are best for you? At Norfolk Kitchen & Bath, we offer free kitchen design services to assist with your remodeling project. We have 5 premier design showrooms in the Greater Boston area with quality cabinets & countertops to fit every budget and expert cabinet installation. Contact us today to get started on your kitchen remodel: 877-336-9652.