Universal design is the idea that the design of your space is functional regardless of size or disability. Modifying your kitchen design to be universal ensures that not only does the design work for you, but works for everyone in the family: children, grandchildren, parents, and grandparents. A universal kitchen design also prevents you from having to make expensive modifications to your home as you age. Universal design is a key component of a good kitchen design.
CAPS Certification
While no one likes to think about getting old, modifying your kitchen design to fit your needs as well as the needs of older adults will liberate you from having to redesign your kitchen later down the road, saving you money as well as making your kitchen inclusive for everyone in your life.
CAPS is a particular certification that falls under the idea of universal design. The Certified-Aging-In-Place-Specialist (CAPS), developed by the National Association of Home Builders (NAHB), is trained on the unique needs of seniors and how to modify the design of a home to maintain functionality for a person as they age. Choosing a CAPS certified designer is especially important when designing a kitchen in your "forever" home, to make forever last as long as possible.
Universal Design In Your Cabinetry
There are other ways to further adjust a design to be universal, including the configuration of the cabinets. Taller base molding and toe kicks push your kitchen cabinets a little higher off the ground, allowing those who may not be able to bend down to still access the cabinets. Similarly, stacking cabinets to the ceiling may not be the best idea if many people in your family are too short to reach the upper wall cabinets. This could result in a lot of unused storage taking up space in your kitchen. You may also want to consider a lower dish storage cabinet to make putting away the dishes after cleaning much easier for all members of the family. Pull out shelving inside your cabinets is another great way to make grabbing stored items easier.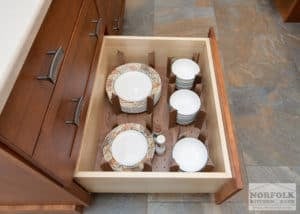 ADA Compliant
If someone in your family is handicapped, there are ways to make a kitchen ADA compliant, such as a special sink base that allows for a wheelchair to slide underneath or a dual level island, so that both you and your loved ones can enjoy the kitchen together. If you choose to have an island, make sure to have at least 42-58″ of space around it to offer maximum mobility. You may also want to consider increasing accessibility within your home by widening doorways, shower entrances & leveling out your flooring so that those with disabilities can move through your home with ease.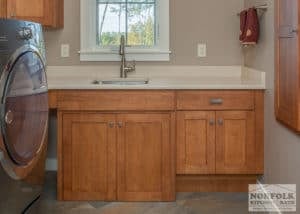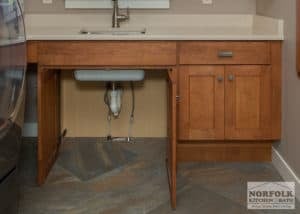 Universal Hardware, Appliance & Flooring Options
­Universal kitchen design involves not only the cabinets but also the accessories, appliances & flooring as well. For example, choosing a larger handle for your cabinet hardware will allow those with hand mobility issues (such as arthritis) to grab it with ease. Pull out shelving is another great accessory for any cabinet, making it easy for people of all ages to spot items and retrieve them from the cabinet. Side by side refrigerators, pot fillers, and wall ovens are also great additions to increase accessibility within your kitchen. Thinking about changing the flooring? Opt for comfortable, slip-resistant materials to ensure people of all ages and mobility levels can move through your kitchen without issue. ­­­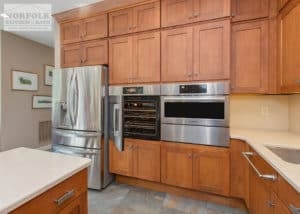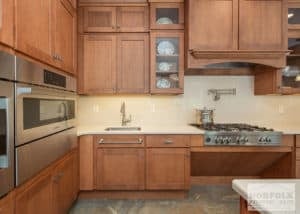 Universal Design Lighting
Adequate lighting within your space is an important component of universal design. Natural light is best, so be sure to have plenty of windows in your kitchen design. Adding task lighting above cooking and meal prep stations ensure safety and visibility regardless of the time of day. In-cabinet and under-cabinet lighting are also great ways to add more light into your kitchen design and will aid you in locating things within an otherwise dark cabinet.
Universal Surfacing Options
One of the most tedious parts of having a beautiful kitchen is the upkeep and cleanliness. An easy way to combat this and to plan for your future is to choose countertops that are easy to clean and care for, such as granite, quartz or solid surface. Some surfaces, such as laminate, tend to stain much easier than stone and is more susceptible to bacteria. Be sure to do your research on all your different kitchen countertop options and decide what is right for you.
Get Started On Your Universal Kitchen Design
When choosing a designer for your kitchen, be sure to consider your future in the home and the possibility of aging-in-place without having to sell your house. We can't wait to help you design a kitchen in your forever home. Visit one of our kitchen & bath showrooms, or contact us today, to get started!