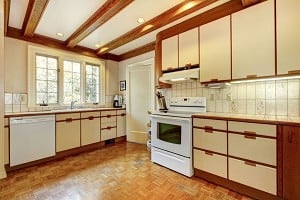 Do you get a sense of gloom every time you walk to your fridge? Are you tired of looking at the same dull cabinets every time you reach for some dishes? Maybe you're concerned about starting a family with such a small kitchen. There are countless reasons why it might be time for a kitchen remodel in MA or NH. If you think it might be time for your kitchen to get a makeover, Norfolk Kitchen & Bath will guide you through every step of the remodeling process. Here are four reasons you might be in need of a kitchen remodel without even realizing it.
ONE: Style Upgrade. Your kitchen is more than a place to cook. Its design gives your house character and emits an ambiance that should make you feel comfortable. If you're sick of that lifeless countertop or think your cabinets could use a update, you should consider investing in a style upgrade. There are an abundance of options and Norfolk is here to help you choose the one that suits your taste.
TWO: Change in Lifestyle. Maybe you're starting a family and you need your kitchen to properly accommodate for a baby who will be crawling all over the floor. Maybe you're at a point if your life in which you don't cook as much as you used to, and would like your kitchen to reflect that change. The fact is that your lifestyle evolves as time passes, and your living space should keep up with your changes in attitude and habits.
THREE: Increase in Value. The kitchen is a huge factor in a home's resale value. If you envision yourself moving out of the house at any point in time, you should consider how much value your kitchen has. Remodeling for the purpose of reaping financial rewards down the road is a common and wise investment. Just make sure you're aware of how much value your new kitchen will offer compared to that of your current one. Also consider if the resale value is worth the money it will cost to get a remodel.
FOUR: Upkeep. Maintaining a kitchen is difficult enough. If you find yourself spending more and more time working on its upkeep, you might soon have to face a painful truth: your kitchen is falling apart. Dents, scratches, dull wood, fading colors, scuffed floors – there comes a time when simple maintenance is not enough to tackle these problems. It might be time to start at square one and invest in a remodel.
If you think it might be time for a kitchen remodel, visit one of Norfolk Kitchen & Bath's showrooms or call us at 877-336-9652. We'll help design the perfect kitchen for your unique taste.