Finding a quality kitchen remodeler is a challenging task. Your new kitchen is a large investment, and you want to hire the right person to protect that investment and install it correctly, efficiently & for a reasonable price. Below are a few of the best qualities & things to look for when interviewing candidates to remodel your kitchen.
Kitchen Remodeler Credentials
Licensing & insurance are major factors when it comes to hiring a kitchen remodeler. When a contractor is licensed, it means that they have the state-mandated qualifications for any contractor, including any necessary schooling and work experience. While work done with an unlicensed contractor, such as a friend or family member, may be appealing due to the perceived savings, the risk may outweigh the reward if the job is done improperly, with shoddy workmanship or incorrect materials.
Hiring a contractor with an insurance policy protects you, the homeowner, from incurring any responsibility from an injury sustained while on your property.
In addition to licensing & insurance, check that your potential kitchen remodeler has an established business, with a website, phone & email. This will give you peace of mind that your kitchen or bath investment is being handled by a legitimate company.
Kitchen Remodeler Experience
Is the contractor qualified to install kitchen cabinetry? Installing a kitchen is more than just hanging boxes on a wall – there are a lot of small details & modifications that require precision and experience to complete properly. Improperly installed cabinets can also lead to issues when it comes to installing your countertops, especially stone like quartz or granite. Strongly consider hiring a remodeler that frequently does kitchens over a contractor that specializes in a different area of the home, such as decking or garages.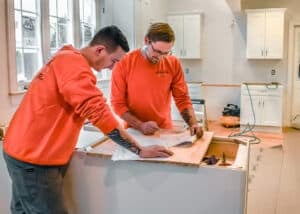 References
Check online review sites like Google, Yelp, or the Better Business Bureau for client feedback & complaints. You can also request a list of references to contact and ask about their experience. Were they on time & on budget? Were they overall pleased with the result? Try to get photos of some recent kitchens they have installed, to get an idea of what your result may look like.
Project Turnaround Time
If you are on a strict timeline, make sure to ask the contractor about their current project turnaround times. During busy seasons, kitchen remodelers could be several weeks to several months out, which may or may not be an issue for you. Know your ideal remodeling timeline and find a contractor that fits your needs.
Pricing
It is a good idea to get at least 3 bids for any project, and kitchen remodeling is no different. Getting multiple estimates will help you gauge what a reasonable cost for your project is and what potential value-added services you could receive. Select a kitchen remodeler that offers you the best value for your project.
Permitting
The main purpose of any permit is to ensure safety according to today's standard codes. If you hire a kitchen remodeler that does not pull permits, they may be inclined to cut corners to save on time & costs. You may also run into problems with potential buyers when you eventually decide to sell your home. You can also pull the permit yourself, although this can be time consuming. Make sure that any remodeling contract you sign says that all work will be performed up to code and have the work inspected before releasing your final payment.
Remodeling Contract
Having a contract is very important in setting expectations for your kitchen remodel. Make sure that you have written proof of the overall price, payment schedule, project scope, and some form of workmanship warranty. This will protect you and the contractor from any issues or disagreements that may arise.
Looking For A Kitchen Remodeler?
Norfolk Kitchen & Bath is New England's largest kitchen remodeling showroom, with 6 locations in MA & NH. Norfolk is proud to offer quality cabinets & countertops, expert kitchen designers, and an in-house kitchen remodeling & installation team. Request your free design consultation today to see how we can help you on your next project!