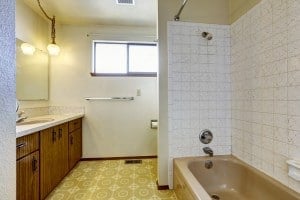 Having one of those days where you walk into your bathroom and wonder exactly when your vanity has become so messy? We know the feeling. Norfolk Kitchen & Bath has customers come into our showrooms everyday looking for solutions for their disorganized bathrooms, and have 5 surefire signs your bathroom cabinets might need some updating.
Your counter is cluttered/nonexistent

If you have a large family sharing a bathroom or simply lack counter space, there's a chance you have outgrown your current vanity. From under cabinet storage to larger cabinets, there are some great solutions out there to remedy this problem.

Your family fights over the sink

This might be an even larger concern if your home only has one bathroom. Upgrading to bathroom cabinets that accommodate a double sink could save you early morning arguments as your children brush their teeth and get ready for the day.

Your fixtures leak

It isn't uncommon that when our fixtures leak, they cause damage to our existing bathroom cabinets. This leaking can create mold, and often times should be fully replaced to avoid health problems and concerns.

Your cabinets are worn and beaten

Sometimes our cabinets just need a little updating, and common wear and tear might be past the point of do-it-yourself fixes. New vanities eliminate those unsightly flaws and give your bathroom a new, clean look.

You are lacking storage solutions

Under cabinet storage is often limited in older vanities. If you find yourself scared to open your bathroom cabinets because of the avalanche that might ensue, new cabinets with updated organizational solutions might be the answer for you.
Whether you have one or all of these common cabinet problems, you have a great reason to consider replacing your bathroom vanity with us. From bathroom remodels at our Boston and Braintree locations, to simple cabinet replacement, Norfolk Kitchen & Bath wants to help you find the perfect solution to your everyday needs. Give us a call today at (877) 336-9652 to speak with our experts.