Remodeling a kitchen can seem like a daunting project. The kitchen is part of the main area of your home, and the idea of ripping it up and replacing it over a period of weeks sounds not only stressful but expensive too. We're not going to lie to you – it certainly can be. But rest assured, it is possible to remodel your kitchen without breaking the bank.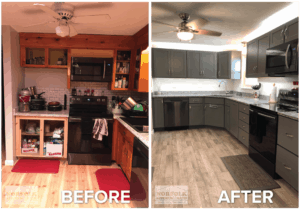 The Purpose Behind Your Kitchen Remodel
A kitchen remodel is one of the most important upgrades you can make to your home's interior. Maybe you are getting ready to put your home on the market, and you are aware that upgraded kitchens (and baths!) are what potential buyers look for when deciding whether to purchase a home. Or maybe you aren't looking to sell just yet, but your kitchen simply doesn't function according to your family's needs. Determining why you want to remodel your kitchen is the first step in determining how much it will cost.
Know What You Want
We've all heard it before that knowledge is power. Knowing what you want and don't want out of your new kitchen will help you save time and money down the road. There are many factors that can influence the cost of the kitchen, and some may be more important to you than others. Looking for more storage in your kitchen? Maybe focus on quality kitchen cabinets with some optional storage upgrades. Love to cook? Maybe investing in some industrial size appliances is where you would prefer to spend your money. Maybe you just want an updated, simple kitchen that you can use to sell your house. There are so many facets of a kitchen renovation and knowing what you truly care about is a good way to organize your needs from your wants, especially when working with a limited budget.
Appliances: Keep Or Replace?
Keep in mind that investing in new appliances, especially high-end appliances, will significantly impact your kitchen remodel cost. Take a moment and evaluate your kitchen appliances and decide if you want/need new ones. Check out your local home center to get an idea of your preferences and potential costs. To keep initial costs down, you can elect to replace your appliances down the road, provided they are the same size and fit within your new kitchen layout.
Basic Kitchen Replacement Or Full-Blown Remodel?
Are there any other things that you would include with your kitchen renovation? Many people take this opportunity to open-up their floorplan, upgrade their flooring, replace windows, pick new paint colors, etc. While these are all great options, they should be considered separate projects from your kitchen remodel and should get their own budget.
Finally, there is the demolition and kitchen installation. Decide on what you are willing to do yourself and what you would prefer a contractor to do. Doing simple tasks yourself, such as painting or taking out your old cabinets, is a great way to save on costs, saving more money for your actual renovation.
Determining an Initial Kitchen Remodel Budget
The next step in determining the overall cost of a kitchen is to decide on an initial kitchen remodeling budget that you would be comfortable spending. We know, it sounds easier said than done. But having a number that you are comfortable with and can afford will help you make selections down the road and prevent you from over-spending.
A helpful tip in determining a kitchen remodel cost is to refer to the reason behind your kitchen remodel that we discussed earlier. Are you selling and just looking to make your home more sellable? Or are you looking to create the kitchen your family will love for years to come? When you walk into a kitchen design showroom, you will be amazed at the sheer variety of options and upgrades available to you. However, investing in all these options and upgrades may or may not be the right thing for your situation, and knowing that in advance will help you advance through the selection process.
Another tip when deciding on your remodel budget: It's important to be realistic. We would all love to get that HGTV-ready kitchen as cheaply as possible, but when you are looking at changing the layout of your home/kitchen and moving some plumbing and electrical, a low-end budget probably isn't realistic for your project. Set a number that you are both comfortable with & can afford. This will help your kitchen designer guide you to products that fit within your desired budget and keep your costs in check.
Selecting the Right Kitchen Design Company
It is important that you select a kitchen design company that understands your needs and can incorporate that within your desired budget. Some places may not have the product at the price point you need, or they may not have the design experience to know how to give you the dream kitchen you are looking for within your budget.
Norfolk Kitchen & Bath is New England's largest family-owned kitchen & bath company. We are proud to offer kitchen and bath cabinetry for all budgets, with stock to fully custom options available. Many of our kitchen designers have over 10-15 years of design experience and truly know what it takes to get you the kitchen you want at a price you can afford. We also offer free design, free measuring services & free delivery for your convenience!
Located in the Greater Boston area? Stop in and browse at any of our 6 kitchen design showrooms or contact us today to request your free design consultation.